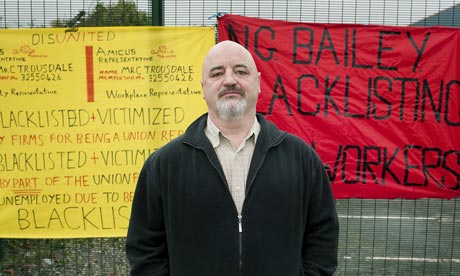 Nearly 10 months after it was confirmed by the Information Commissioner that blacklisting in the construction industry was rife, something common knowledge for decades among trade union reps in the sector, new laws outlawing the practice are in preparation and on 24 November 23 of its victims featured on the blacklist will start their tribunal cases.
But for electricians such as Colin Trousdale (above) it doesn't mean the scandal is over. The cover story on the 21 November issue of The Guardian's Work section reports Trousdale, 51, now has copies of his file after the ICO investigation.
The six-page document opens in 2006, shortly before he launched an unsuccessful employment tribunal claim for being blacklisted. The last entry is October 2008.
However Trousdale says that since last December he's only had eight weeks' work.
"I can only think that because I've raised health and safety concerns – and remember this is an industry in which 53 people died last year – I'm affecting profits and they don't want me doing that," he told the paper.
According to the government, the likes of Trousdale should get better protection from new laws due before Christmas. Draft laws have already been the subject of a consultation and do not have to be debated and once published, can be signed into law by the business secretary, Lord Mandelson.

MP John McDonnell wants a committee to consider the proposals to ensure they are properly worded and says this must be done soon or the result will be ineffective legislation. "The timing is critical," he said. "We need to scrutinise the wording but if this goes on after Christmas we might lose that chance in the run-up to an election."
Steve Kelly, 43, from Essex, was one of those who received a copy of his file. The 18-page document runs from 1998-2007 and includes minutes from a union branch meeting, along with allegations that Kelly was a "trouble maker", involved in "intimidating workers to join the union" and was even "writing abuse on the toilet walls".
"I was gobsmacked what they had on me," said Kelly. He is one of 238 people to have received their file, out of 1,872 who have contacted the ICO.
The traditional route to legal redress is via an employment tribunal. So many cases have been submitted that they are being lumped together and will be heard in Manchester. The initial case management discussion is due to take place on 24 November, which will set a hearing date for the new year.
Dave Smith, 44, is one of those putting in a tribunal claim. His large file starts in 1999 and includes details on the car he drove, newspaper clippings and union correspondence.
He says: "The file specifically identifies incidents when I raised health and safety concerns. At no point is my competence as an engineer questioned. I believe the folder is prima facie evidence of deliberate and vindictive discrimination and victimisation." Smith has left the industry because he couldn't get work.
For the Labour MP John McDonnell, the blacklisting scandal requires a public inquiry so that those affected can properly air their grievances and those responsible can be cross-examined. "This is one of the worst ever cases of organised abuses of human rights in the UK," he said.
For Colin Trousdale, the best solution is a simple one. "I am not interested in the money, I am just interested in getting back to work," he says.
If you think that The Consulting Association held a file on you, ring the ICO on 08456 306060 or 01625 545745 between 9am-5pm, Monday to Friday and choose option one
 From the files: The notes that scuppered the blacklisted workers' careers
The Consulting Agency's blacklist files were held on a card index, organised much like a local police intelligence system. They typically had a name, address and national insurance number, and some included material such as newspaper clippings, photographs, copies of union correspondence and reports from companies. The companies were identified by code numbers (the meanings of which have since been decoded). Those files that have been released have been redacted where they identify individuals other than the subject, to protect that person's privacy.
Mick Anderson, 40, married with three children, from Kerry, Ireland Submitted 250 job applications and took courses to keep his electrician training up to date but was out of work for 16 months. Anderson and his family moved to the Irish Republic three years ago because of the blacklist, but he has struggled to find work. His file includes this extract: "Information received by 3271/81 site manager at Heather T5 that the above is 'not recommended' by amicus."
George Fuller, 64, single, from London A bricklayer from Forest Gate, Fuller has a file that covers 1990 to 1998 but has been an active trade union member since the 1960s and was involved in several major disputes during the 1970s. "I think there must be another file," he says.
John Winstanley, 66, married with three children, five grandchildren and two great-grandchildren, from Liverpool This retired joiner's file was opened in 1975, when it was held by the Economic League, and ends in 2002. It has details on his heart bypass surgery in 2001. He is described as an "an old-style communist" in one entry. "I heard about the blacklist when I was an apprentice," he says. "You tried to beat it any way you could."
Darren O'Grady, 47, married with two children, from London O'Grady, an electrician, left the industry in 1990 after repeatedly failing to secure work and moved to America. Now back in the UK, he is a tutor with the TUC. "I am disappointed that the people who fingered me cannot be identified," he says.