SUBCONTRACTING DANGER For around a million hectares of pine and eucalyptus plantations, Arauco employs only 54 workers directly. The company is extremely powerful, though, and still dictates employment and safety standards.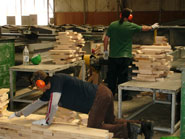 WORK STRAIN In Arauco's mouldings factory young workers are "used up and squandered" and "are dropping like flies with tendonitis," says Fiona Murie. "The union is working on anonymous surveys to determine how many people are affected, how many have been to the doctor, how many are taking pain killers, with a view to making clear proposals to management on improving conditions."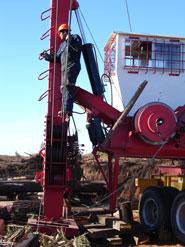 GETTING ORGANISED CTF safety reps on the new health and safety committee are union members voted in by the entire workforce – "quite a promising stiuation for the future," says Fiona Murie.

LUMBERED
Chilean forestry workers fight for their lives
---
LUMBERED
Hazards 98 photofeature, April-June 2007
The Chilean Confederation of Forestry Workers (CTF) is one of the most active unions on health and safety in the sector anywhere in the world. Fiona Murie of the global construction unions' federation BWI explains how CTF forced one of Latin America's biggest multinationals to the negotiating table.
BWI affiliate the Confederation of Forestry Workers (CTF) downed tools in March 2007. The indefinite strike was called to protest at exploitative working conditions imposed by forestry giant Arauco in the Southern Chilean province of the same name. Arauco provides work for 14,000 people in the province, around 25 per cent of the working population, however almost all are employed through a huge number of small contractors in forestry operations, sawmills and factories owned by the gigantic company.
The union says there is increasing pressure to produce more with fewer workers. Workers endure miserable salaries and dangerous, arduous work. Indiscriminate use of pesticides causes ill-health and environmental contamination. CTF president Jorge Gonzalez says Arauco has used the contractors as an alibi to avoid negotiating with the union directly.

Further information
Building and Woodworkers International (BWI)
www.bwint.org