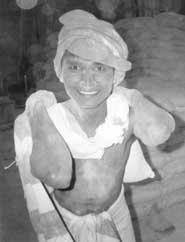 WORKING AGE Children in Gujurat are commonly found in extremely hazardous jobs. This boy heaves heavy weights in a dust-filled stone crushing unit in Godhira.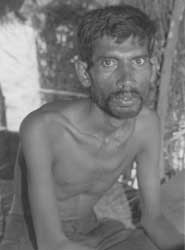 DUST KILLS Many jobs leave workers at dire risk of fatal lung diseases. Kanubhai Sinda (above) worked polishing agate gemstones. He died of silicosis caused by inhaling silica dust.

Peoples Training and Research Centre (PTRC), India
---
LIFE AND DEATH IN GUJARAT
Hazards 94 photofeature, April-June 2006
Gujarat is one of the most industrialised regions of India and provides millions of jobs which are extremely hard, harsh and hazardous. Jagdish Patel of the Peoples Training and Research Centre, an innovative grassroots occupational health and safety clinic and advocacy service, explains how it works in the community to improve working conditions.
Gujarat, a state in the west of the India, is heavily industrialised, with millions employed in desperately unsafe and unhealthy circumstances. A fifth of India's "major accident hazard" facilities are in the state. Twenty years ago, a group of workplace safety campaigners formed Vyavsayik Swasthya Suraksha Mandal (VSSM) – the Gujarat equivalent of the UK Hazards Campaign – as a grassroots health and safety pressure group. We knew safety training and awareness was low and we knew little would be done unless we did it for ourselves.

BE HEARD A "machine yatra" or pilgrimage, organised by PTRC, saw activists take to the streets and featured drummers and banners drawing attention to the need for local exhaust ventilation systems for dusty jobs.
More information
Peoples Training and Research Centre
43 Srinathdham Duplex, Dinesh Mill-Urmi Road
Vadodara – 390007, India

Email petaljb@sancharnet.in
Online www.ptrc.info