Hazards issue 111, July-September 2010
Tories know what they want, and that's nothing to do with safer work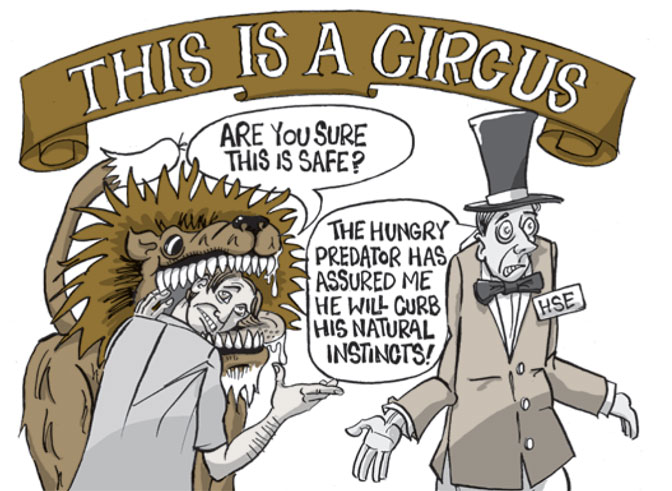 Securing safe and healthy workplaces requires good regulations, proper enforcement and decent rights, unions have told an official enquiry. But the government seems intent on axing lifesaving safety protections regardless of the evidence.
Slash and burn
Hazards issue 111, July-September 2010

On 14 June 2010, David Cameron formalised a government call for Lord Young of Graffham to review health and safety regulation, a process started pre-election by the Conservatives and originally due to report directly to Cameron (Hazards 108).
The new prime minister said: "The rise of the compensation culture over the last ten years is a real concern, as is the way health and safety rules are sometimes applied. We need a sensible new approach that makes clear these laws are intended to protect people, not overwhelm businesses with red tape."


COSTLY ERROR  It's not compensation culture that led the US government to demand BP create a $20bn compensation fund. It was an oil rig inferno in the Gulf that killed 11 and which unleashed an environmental catastrophe. The UK multinational had previously lobbied US authorities successfully for safety self-regulation offshore (See Abuse of power).
Lord Young did not opt for considered deliberation.
In the hours following his appointment, he was gracing breakfast TV sofas displaying a disregard for facts – his crib sheet seemed to be a list of safety myths discredited long and often by both the Health and Safety Executive (HSE) and the TUC – that was only matched by his resolve to sort out a system he had earlier labelled as "at best, an object of ridicule and, at worst, a bureaucratic nightmare".
By 19 June, the former Tory employment and trade secretary, in a move that reinforced the suspicion the outcome of the review was pre-ordained, was telling the Times "People occasionally get killed, it's unfortunate but it's part of life" and declaring health and safety regulations protecting office workers were "nonsense". The Tory peer added that police and paramedics should be excluded from health and safety laws.
Tory offensive
The Conservative grandee's comments earned a stinging rebuke from Unite. Joint general secretary, Tony Woodley, accused the millionaire former Tory cabinet minister and long standing champion of deregulation of being "offensive".  The union leader responded that the review should "look at the lack of effective investigation of workplace accidents, incidents and causes of ill-health and the widespread failure by employers to report injuries and diseases and dangerous occurrences.
"Regrettably the remarks reported in the press from Lord Young are deeply hurtful and offensive, particularly to the families of those killed at work."
Even if you include the myths, Lord Young has not so far presented any evidence to suggest workplace health and safety regulation is excessive, hasn't worked or could be removed or weakened without jeopardising health and safety. And whereas his lordship might see health and safety as a series of troublesome forms and risk assessments, in the workplace it is something rather more real - the chances a worker will not be injured, will not fall sick, will survive to claim a pension.
It's a toll under-estimated in official government figures. TUC's submission to Lord Young's review warns that the HSE fatalities total represents only "a tiny proportion" of those killed by work.
And the union body adds that neither do the official figures show "the number of people who have to give up work, or move to another occupation because of years of exposure to an occupational hazard," noting in many professions "very few workers manage to remain working until they reach retiral age, such as scaffolding, hairdressing, and some heavy labouring jobs."
According to TUC, Lord Young's evidence of safety excesses – toothpicks removed from restaurants for "safety reasons" and pancake races ordered to proceed at walking pace – is not just a collection of myths, it is nothing to do with workplace safety law.
"Health and safety in the workplace is very different from the issues around safety and risk in our everyday activities because the employee has no control over their workplace, and the system of work and level of protection are in the control of the employer," the TUC submission says. It adds "there is a strong need for greater investment in health and safety" with "our political leaders acting as champions for occupational health and safety."
TUC argues while regulation has been effective on safety, "much more needs to be done to tackle the health issues". There is no case for exempting groups of employers or workers from the protection of health and safety law, it adds.
The Tories are known to want to remove some of the safety controls on smaller firms. Small and medium-sized enterprises make up over 99 per cent of all companies in the UK. There's also been talk of the introduction of "earned autonomy", which would introduce a system of self-regulation for firms that demonstrated they could manage their own safety affairs and would come with a guarantee of no inspections from HSE.
It's a system born in the USA where it has been so discredited – investigations have found serious safety crimes perpetrated by a sequence of self-regulating 'Voluntary Protection Program' firms – it will soon wither and feasibly die there.
The TUC is clearly supportive of HSE's role – and it wants to see more of it. "TUC believes that the HSE is a world-class organisation whose staff provide an invaluable service that is second to none," the submission says, concluding "we would strongly argue for an enhanced role for the organisation."
No compensation culture
David Cameron's opening salvo targeting the "rise of the compensation culture" has been an evident concern of Lord Young, who appears particularly vexed by no-win, no-fee TV advertisements. While few outside the legal profession would shed tears for ambulance chasers on the box, the facts suggest the peer is seeking a solution to a compensation headache that not only does not exist, but that sees most people injured at or diseased by work missing out.
Union legal advisers say there has in fact been a dramatic decline in compensation claims for work-related injury and ill-health. A submission to Lord Young's review from Thompsons Solicitors, the largest law firm providing personal injury legal support to unions, notes: "Over the last decade the numbers of union-backed personal injury claims have fallen and the overall number of employers' liability claims (union and non-union) have fallen."
It points to the government's own Compensation Recovery Unit (CRU) statistics which show "that employer liability claims have fallen 69 per cent from 2000/01 to 2009/10 – from 219,183 in 2000/1 to 78,744 in 2009/10." Thompsons says research suggests fewer than a third of those eligible to make a workplace injury claim actually do so. Claims are also down for clinical negligence and public liability, with only road traffic accident claims on the up. The law firm says the way to reduce work-related claims, is to make work safer.
The submission from Thompsons agrees with Lord Young that the "perception" of health and safety being a problem is the real problem, and advises the former Tory minister to back the HSE's 'myth of the month' campaign rather than undermine already limited legal safety protection.
HSE union Prospect also urged Lord Young "to tackle the negative media reporting blighting the sensible and proportionate health and safety regulation that seeks to enable, not stifle, work and community activities."
Prospect's deputy general secretary Mike Clancy warned, however, that the union would not support proposals to deregulate. "The flexibility of health and safety legislation has stood the test of time. It saves workers' lives and promotes their health and productivity.  Safety pays, danger costs."
TUC general secretary Brendan Barber concluded: "Businesses are responsible for a working culture that injures a quarter of a million workers every year and makes a further half a million employees ill. The review should be investigating this instead. Rather than focusing solely on the 'needs of business', the government should protect workers by increasing inspections and enforcement action against employers who put their staff at risk by ignoring existing laws, as well as introducing a legal duty on directors to protect their workers."
Lord Young's report is expected to be published in early September – a month ahead of government funding discussions which will set the Health and Safety Executive's budget.
Resources
Hazards deadly business webpages.
HSE myths webpages.
Hazards Campaign 'We didn't vote to die' facebook group
Deadly business 'costs' spin on regulation
A business group has published updated estimates of the cost to business of regulations without addressing concerns raised last year that the figures were "rigged" (Hazards 106).  The British Chambers of Commerce (BCC) 'Burdens Barometer 2010', published in May 2010, puts the total cumulative cost to business of regulations since 1998 at £88.34bn. BCC director general David Frost commented: "The cost of dealing and complying with new laws and regulations over the last 12 years has been far too high."
However, as in last year's report, BCC relegates to the technical notes an admission that the costs to business identified "are net of the benefits that accrue to business." The flaws in the analysis led TUC general secretary last year to dismiss the annual BCC publication as a "tired stunt" that "is well past its sell-by date". Hazards charged: "BCC rigged the figures", adding: "Compared to the multi-billion annual cost of occupational injuries and diseases, many deadly, the protective health and safety laws BCC calls a 'burden' are really no burden at all."
This year, however, BCC for the first time singles out the Health and Safety Executive (HSE) as a distinct category in its analysis. Of the 18 categories identified only one other – the Food Standards Agency – is not a government department. Health and safety "burdens" identified in the 2010 report cover regulations providing workers with protection from hazards including explosives, chemicals, work at height, biocidal products, vibration and noise. BCC estimates these safety regulations lead to a combined recurring annual cost to business of £374 million. The cumulative cost since 1998 tots up to £2.963 billion.
However, this sum is a tiny fraction of the savings accrued from preventive action required by regulation – including the savings made by business from operating safely. Many of the costs of occupational ill-health and injury are not borne by business, but "shifted" onto the affected workers, the community and the public purse.
BCC news release and The Burdens barometer 2010 [pdf]
Who pays?, Hazards, number 106, 2009