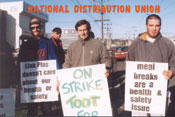 STRIKE FOR SAFETY Members of the National Distribution Union walked off the job in support of health and safety claims in their collective employment agreement. Health and safety must be a core issue in bargaining with employers.

YOUNG WORKERS The NZCTU's Youth Union Movement (YUM) carries the health and safety message to young workers, many of whom are keen to become workplace reps.

REMEMBER THEM Workers' Memorial Day has been marked by hundreds of white crosses, representing workers killed as a result of their employment, planted on the lawn in front of the Parliament Buildings in Wellington.
YOU GET WHAT YOU FIGHT FOR
---
Hazards 87 photofeature, July - September 2004
Vital signs
In May 2003, after intensive lobbying from unions, the Labour government in New Zealand brought in legislation which requires worker participation in health and safety. Ross Wilson, the president of the NZ Council of Trade Unions, says the law is vital in turning around New Zealand's appalling record of workplace illness, injury and death.
For the NZCTU the health and safety of our 342,000 affiliated union members is a priority. There were 73 workplace deaths recorded in the year to June 2003, the same as the previous year. The government's Occupational Safety and Health Service estimates more than 500 people die each year as a result of work-related accidents and disease.
Find out more: NZCTU "Worksafe Reps" website