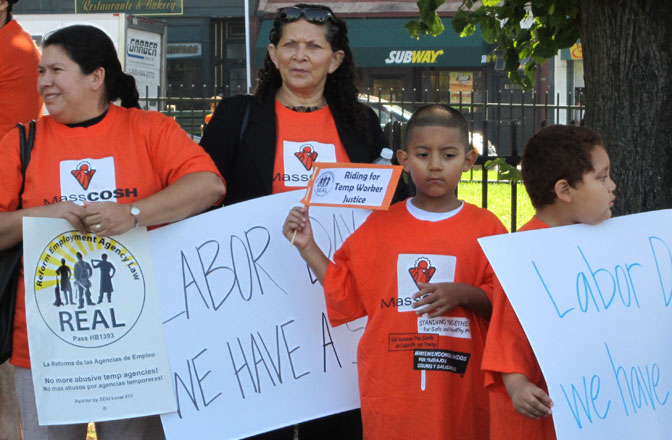 Suicidal work
Work-related suicides go uncount and unaccounted for in the UK
Your job can drive you to kill yourself, but don't expect your suicide to be counted in official work fatality statistics or for the boss to end up in court. Leeds University researcher Sarah Waters highlights how the UK is turning a 'blind eye' to a major workplace killer. Hazards 136, January-March 2017
Trashed!
Deadly depression as precarious work becomes the norm
In a recession-ravaged world, even if you've got a permanent job, you feel insecure. If you've got a temporary job, you are permanently insecure. Hazards examines the lasting health damage caused to an increasingly disposable workforce. Hazards 119, July-September 2012
Hazards features
HSE is broke
The official safety watchdog is broke, can't do its job and is haemorrhaging staff. Hazards predicts over-stretched and under-protected workers will soon get sick of being fed the government's healthy lifestyle and "work is good for you" line.
Hazards 96, October-December 2006.

Drop dead
It is the thoroughly modern way to die at work. Major occupational diseases of the 21st century will be heart attacks, suicide and strokes. Hazards looks at why so many of us are being worked into the ground.
Hazards 83, July-September 2003

Not what we bargained for
The economy is buoyant, but we work harder for less pay. We know more about hazards and their control, but work-related stress, strains, depression and violence are soaring. We have never been more productive, and we are rewarded with temporary contracts, long hours and back breaking workloads. What on earth is going on?
Hazards 69, January-March 2000
News
Britain: Black and minority workers do more insecure work
A TUC study has found that 1 in 13 BAME (Black, Asian and minority ethnic) employees are in insecure jobs, compared to 1 in 20 white employees. It said there are over three million BAME employees in the UK, of whom nearly a quarter of a million are in zero-hours or temporary work.
TUC news release and BAME report. Risks 803. 10 June 2017
Global: 'Gig' work is bad for your health
While much has been said about the employment rights abuses of the 'gig' workforce, the attention of the medical community is only belatedly turning to the damaging health impact of insecure work. Molly Tran, assistant professor of public health at the State University of New York writing in the Journal of Occupational and Environmental Medicine, noted: "As occupational medicine specialists, we have a fundamental ethical responsibility to promote social justice."
Molly Tran and Rosemary Sokas. The Gig Economy and Contingent Work: An Occupational Health Assessment, Journal of Occupational and Environmental Medicine, volume 59, issue 4, pages e63-e66, April 2017. Financial Times. Risks 803. 10 June 2017
Global: Few rights and job insecurity make you sick
Work factors including a lack of paid sick leave, job insecurity and workplace bullying are linked to worse health status, a study has found. The research from the US government's National Institute for Occupational Safety and Health (NIOSH), found workers with no paid sick leave were 35 per cent more like likely to report fair or poor health and those worried about becoming unemployed were 43 per cent more like likely to report fair or poor health.
NIOSH science update. More on health and safety and insecure work. Risks 803. 10 June 2017
Britain: Hermes delivers poor protection for its couriers
Courier firm Hermes is putting its drivers and the public at serious avoidable risk by cutting corners in the interest of profit, the union GMB has said. The union says the firm misleads potential drivers by failing to stress their insurance companies must be told they are using their own vehicle for business purposes; any drivers who have failed to notify their insurer are likely to find their entire insurance is void.
GMB news release. Risks 803. 10 June 2017
This is one risks story split into two news entries…
Britain: Nearly 10 million people are in insecure work
Up to 10 million workers - or nearly a third of the UK workforce - do not have secure employment, according to the union GMB union. The union's research warns that this precarious employment – defined as those in the gig economy, on zero or short hours contracts, temporary workers, the underemployed and those at risk of bogus self-employment - is damaging people's health. 
GMB news release and general secretary's speech. The Guardian. Morning Star. Risks 803. 10 June 2017
Britain: Crackdown needed on zero-hours contracts
The TUC has called for a crackdown on zero-hours contracts after official statistics showed a sharp rise in the number of workers affected. The new Office for National Statistics (ONS) figures revealed almost a million workers have no guaranteed hours in their main job.
TUC news release. ONS statistics, May 2017. The Independent. Risks 800. 20 May 2017
Britain: TUC conference on insecure work, 26 June 2017
The TUC is to host 'Living on the edge: The rise of job insecurity in Britain', a major one-day conference to discuss how unions and other civil organisations can tackle insecure work. Speakers include TUC general secretary Frances O'Grady, Matthew Taylor, head of the government's independent review into modern employment practices, and union leaders and organisers. Attendance is free.
Living on the edge: The rise of job insecurity in Britain, 9.00am to 5.00pm, 26 June 2017, TUC, Congress House, 23-28 Great Russell Street, London, WC1B 3LW. Risks 799. 13 May 2017
Britain: Labour gets to work, but where are the Tories?
Labour's 20-point plan to end the 'rigged economy' in work has been welcomed by the TUC, which has challenged the Conservatives to say what they would do to improve the lot of workers. The Labour plan includes equal rights for all workers, regardless of their employment status, abolition of employment tribunal fees, a public inquiry into blacklisting, guaranteed of trade union rights and the reinstatement of protection at work from 'third party harassment'.
TUC news release. Labour news release. Risks 798. 6 May 2017
Britain: New protections needed from insecure work
MPs aren't the only ones feeling insecure in their jobs right now, according to the TUC. Frances O'Grady, general secretary of the union body, said: "We've done the calculations and the number of people trapped in insecure work is likely to rise by 290,000 over the course of the next parliament," adding: "This will take the total of those on contracts such as zero hours, temp or agency work, and low-paid self-employment to 3.5 million people."
TUC Stronger Unions blog. TUC Touchstone blog. NUJ news release. Work and Pensions committee report. BBC News Online. The Guardian. More on health and safety and insecure work.
Hazards Campaign health and safety in the gig economy poster. Risks 798. 6 May 2017
Australia: Unions prepare to take on Amazon
Around the world, Amazon is famous for its low prices, fast delivery, ruthless efficiency and antipathy towards unions, who say it treats workers like robots. Unions in Australia – where Amazon is about to expand its operations – are taking heed.
The Age. Sydney Morning Herald. Risks 797. 29 April 2017
Global: We are all sickened by inequality at work
Whether it is a gaping gulf in pay, job insecurity or job discrimination based on your class, gender or race, a divided workplace is bad for your health, a top union official has warned. In a commentary ahead of International Workers' Memorial Day on 28 April, Sharan Burrow, general secretary of the global union body ITUC, said who lives and who dies at work is not an accident of chance.
Face it. We are all sickened by inequality at work, editorial by ITUC general secretary Sharan Burrow, Hazards online, April 2017.
Unsafe and unfair – discrimination on the job hurts us all, ITUC briefing for International Workers' Memorial Day, 28 April 2017.
TUC Workers' Memorial Day 2017 events listing. Risks 795. 8 April 2017
Canada: Insecure work hits mental and physical health
Precarious work is bad for both mental and physical health, according to a new survey of nearly 5,000 workers by the Ontario Federation of Labour (OFL). The union body, which represents workers in Canada's most populous province, found almost one-third of survey respondents cite mental and physical health issues as impacts of precarious work.
OFL news release and Make it fair campaign. Toronto Star. More on job insecurity and health. Risks 794. 1 April 2017

Britain: Suicide is a workplace issue
The UK is turning a blind eye to a major workplace killer, work-related suicide, the TUC has warned. The union body points to a series of reports this week highlighting how work factors can put large sections of the workforce at a greatly increased suicide risk, but there the problem is off the radar of the safety regulator.
TUC Stronger Unions blog. TUC guidebook on mental health in the workplace (registration required).
Sarah Waters. Suicidal work: Work-related suicides go uncounted and unaccounted for in the UK, Hazards magazine, number 137, 2017. Hazards quick guide to work-related factors linked to suicide.
Suicide by Occupation 2011-2015, Office for National Statistics, March 2017.
Dying from inequality, Samaritans, March 2017. Reducing the risk of suicide: A toolkit for employers, Samaritans/Business in the Community, March 2017. Crisis management in the event of a suicide: A postvention toolkit for employers, Samaritans/Business in the Community, March 2017. Risks 793. 25 March 2017
Britain: Zero hours contracts treat workers like 'disposable labour'
New official figures showing a sharp rise in the number of workers on zero hours contracts demonstrate the need for an urgent reform of employment law, the TUC has said. Commenting on new figures from the Office for National Statistics, which show that the number of people on zero hours contracts has increased by 13 per cent over the past year, TUC general secretary Frances O'Grady said: "Zero hours contracts allow bosses to treat workers like disposable labour."
TUC news release. Are you an insecure worker? Complete the TUC survey. ONS figures, March 2017. Risks 792. 18 March 2017
Britain: Couriers told to find sick cover or face big fines
Parcel delivery firms DPD and Parcelforce Worldwide have been called before a committee of MPs to answer questions about the working conditions faced by their self-employed couriers. Frank Field, the Labour MP who chairs the work and pensions select committee, has written to the bosses of both companies asking them to provide evidence as part of an ongoing inquiry into the gig economy.
Work and Pensions Committee news release and letters to Parcelforce and DPD. HR Grapevine. The Guardian. Risks 791. 11 March 2017
Britain: DX couriers launch legal battle for work rights
The union GMB is to start legal action on behalf of couriers working for the delivery company, DX. The union says it wants to "secure rights on pay, holidays, health and safety, discipline and grievances on behalf of members who work as couriers and drivers for DX."
GMB news release. Leigh Day news release.
House of Commons business, energy and industrial strategy committee's Future world of work and rights of workers inquiry hearings. Risks 791. 11 March 2017
USA: 'Diseases of distress' linked to work 
A 2015 study revealing a sharp spike in death rates among white working class Americans, bucking a long-term downward trend, has prompted research establishing that the 'diseases of distress' responsible – alcohol and drug-related diseases and suicides – are linked to work factors. This associations were established by a group of work environment doctoral students at the University of Massachusetts Lowell, Professor Laura Punnett explained in a posting in the public health blog The Pump Handle.
The Pump Handle. Anne Case and Angus Deaton. Rising morbidity and mortality in midlife among white non-Hispanic Americans in the 21st century, Proceedings of the National Academy of Science (PNAS), volume 112, number 49, December 2015.
TUC drugs and alcohol webpages. More on work-related suicide, drug and alcohol use and job insecurity. Risks 790. 4 March 2017
Britain: Agency worker trapped hand in plastic machine
A West Yorkshire polythene film manufacturer has been sentenced for criminal safety breaches after a worker trapped his hand in machinery. Huddersfield Magistrates' Court heard how the injured agency worker broke the little finger on his right hand while operating machinery in March 2014 at Total Polyfilm Ltd's Brighouse plant.
HSE news release. Risks 789. 23 February 2017
Britain: Suspended jail term after casual roof worker's death
A self-employed businessman has been sentenced to nine months imprisonment, suspended for two years, and 200 hours of unpaid work after a casual worker fell from the flat roof of a building and died from his injuries. Manchester Crown Court heard how on 22 December 2013, father of two Jason Fogarty was working alongside company boss Roy Hardaker on a flat roof replacement project. to nine months imprisonment, suspended for two years, and 200 hours of unpaid work.
HSE news release and roofwork webpages. Risks 789. 23 February 2017
Britain: GMB disappointed with Uber's 'cosmetic' changes
Taxi firm Uber has missed a 'golden opportunity' to start complying with the law, the union GMB has said. The union, which last year won a groundbreaking employment rights legal case on behalf of Uber drivers, said it was disappointed with the 'cosmetic' changes introduced for Uber drivers.
Lawyer Monthly. Risks 789. 23 February 2017
Britain: Heart attack plumber wins workers' rights fight
A plumber has won a Court of Appeal employment rights battle in the latest significant court ruling over freelance operations in the modern workplace. Gary Smith wanted to reduce his working days at Pimlico Plumbers following a heart attack, but said he was dismissed as a result.
TUC news release. Court judgment. BBC News Online. The Guardian. Risks 788. 18 February 2017
Britain: Insecure work up by over a quarter since 2011
The number of people in insecure work – those working without guaranteed hours or baseline employment rights – has shot up by more than 660,000 (27 per cent) over the past five years, according to new research for the TUC. The trend toward more precarious work, has been linked to higher rates of occupational injuries, work-related ill-health and worker being far less likely to feel able to take sick leave.
TUC news release. Morning Star. The Independent. More on health and safety and insecure work. Risks 787. 11 February 2017
Britain: Hundreds flock to join Uber action
Hundreds of Uber drivers have joined GMB's legal case against cab firm, with proceeding already issued in 50 cases, the union has said. Law firm Leigh Day, working with GMB to assess the claims, predicts thousands of drivers could potentially join the group action.
GMB news release. Leigh Day news release. Risks 781. 17 December 2016.
Britain: GMB slams Asos double standards
A 'huge disparity' in the employment conditions offered to staff at the London HQ of online retailer Asos and its Yorkshire warehouse staff has been criticised by the GMB. The union was commented after Asos announced plans to create 1,500 jobs in a London HQ "that fosters creativity" just days after GMB held a 'catwalk of shame' outside the Asos AGM in protest at conditions for warehouse workers in Yorkshire.
GMB news release. Asos news release. Risks 781. 17 December 2016
Britain: Worker suffered cement burns on first day Building products manufacturer Stressline Limited has been fined after an agency worker suffered serious cement burns on his first day of work. Leicester Magistrates' Court heard how the inexperienced 21-year-old – on his first day of full-time employment – was exposed to alkaline cement slurry while standing in a drainage pit.
HSE news release and cement hazards factsheet. Risks 735. 23 January 2016
Spain: Less secure work equals more work injuries
Deregulatory labour market reforms in Spain in 2012 led to more job insecurity and higher staff turnover and a subsequent sharp rise in workplace injuries, unions have said. Pedro J Linares, safety secretary with the CC.OO trade union confederation, said the reforms had "made dismissals cheaper, weakened trade union bargaining power and slackened investment in occupational health and safety."
Equal Times. TUC health and safety facebook page. More on the hazards of insecure work. Risks 729. 21 November 2015
Britain: Casual worker fatally injured falling through roof
A self-employed worker has been fined after a casual worker he employed to repair a shed roof fell, dying of his injuries several days later. Ayr Sheriff Court heard how on 26 August 2012, William Sproat, 63, had been employed by David William McVey to repair a storm damaged shed roof at Brunton Farm in New Crummnock.
HSE news release and working at height guide. Risks 727. 7 November 2015
Britain: Agency worker dragged into machine and killed
A company that manufactures and supplies high-strength bar and cable systems has been fined £200,000 after a worker was pulled into an inadequately guarded machine and killed. Alan Gerrard, 47, suffered fatal crush injuries while working at McCalls Special Products Limited when his clothing got caught in the machine, used to apply adhesive tape to bars to stop corrosion. HSE news release and work equipment webpages. Risks 726. 31 October 2015.
Britain: Ambulance count exposes Sports Direct work practices
Ambulances were called out to the warehouse headquarters of one of Europe's largest sports retailers 80 times in two years, an investigation found. Unite, which has launched a campaign for decent work at Sports Direct, says poor conditions are not limited to the company's warehouses.
Sign up to the online petition to Sports Direct chief executive David Forsey: Sports Direct: Stop your shameful work practices. Unite Sports Direct campaign.
Investigating Sports Direct, BBC Inside Out, 5 October 2015. BBC News Online. Risks 723. 10 October 2015
Britain: The national disgrace of 'disposable workers'
Insecure employment is creating an army of 'disposable workers' too scared to take sick leave and who are fired when they can no longer perform, according to the TUC. The union body was commenting after Health and Safety Executive (HSE) research found that "temporary and permanent employees have comparable rates for both injuries and ill health", but also discovered "temporary employees have around half the average working days lost per employee of permanent employees."
TUC health and safety facebook page. Self-reported work-related illness and workplace injury for permanent and temporary employees, HSE, 2015. More on health and safety and insecure work. Risks 711. 18 July 2015

Britain: Scottish inquiry into the quality of work
The social and health impact of work is to be investigated by a key committee of Scotland's parliament. The "major inquiry" by the Economy, Energy and Tourism Committee will investigate how employment and job quality has changed since the 2008 recession.
Scottish parliament Economy, Energy and Tourism Committee news release and call for evidence. BBC News Online. Risks 708. 27 June 2015
Global: Temp agencies accused of 'false advertising'
Ciett, the global lobbying body for temporary labour agencies, has been accused of 'false advertising' after claiming the International Labour Organisation (ILO) supports the expansion of agency work. Global union federation IUF, which represents unions in the food and farming sectors, dismissed Ciett's assertion that the growth in business for temporary employment agencies advances the ILO's "decent work" agenda.
IUF news report. Ciett news release. Background report prepared by the ILO. More on the hazards of insecure work. Risks 706. 13 June 2015
Global: McJobs report documents global abuses
McDonald's fought a losing battle for years to keep 'McJobs' - generally defined as low-wage, insecure, dead-end work with no benefits - out of dictionaries. But global foodworkers' union IUF and its North American affiliate SEIU says their new report, 'McJobs: Low wages and low standards around the world', should see "systematic rights abuses", including safety abuses, added to the current definition.
IUF publication alert, and full publication: McJobs: Low wages and low standards around the world, IUF/SEIU, 2015. Risks 705. 6 June 2015
Global: Mineworkers confront Rio Tinto over casualisation
Mineworkers have confronted Rio Tinto over casualisation of coal mining jobs and its dangerous impact on mine safety. Speaking ahead of the global mining giant's AGM in Perth, Australia, Andrew Vickers of the Australian mining and energy union CFMEU said that insecure work arrangements were a troubling feature of Rio Tinto's mining operations worldwide and were "a disaster for mine safety."
CFMEU news release. Mining Australia. More on the hazards of insecure work. Risks 702. 16 May 2015.
Britain: Unite to tackle 'Victorian' Sports Direct practices
Unite has launched a confidential advice and support line to help confront abusive 'Victorian' work practices at Sports Direct and a culture of fear at the retailer's Shirebrook warehouse in Derbyshire. Working conditions are underpinned by a 'six strikes and you're out' disciplinary procedure, where workers can get strikes for long toilet breaks, excessive chatting and even having time off for sickness.
Unite news release. Channel 4 Dispatches: The Secrets of Sports Direct. Risks 701. 9 May 2015
Global: Intermittent jobs are bad for your health
People moving in and out of temporary or insecure work are at a heightened risk of physical and mental health problems. New research has found an 'accumulation' of health effects linked to multiple spells of unemployment, adding to evidence showing a pronounced health impact of insecure work.
The Age. More on the hazards of insecure work. Risks 698. 18 April 2015
Britain: Going to work is more stressful than ever
Britons find their jobs more stressful, precarious and demanding than ever before, according to an extensive poll of experiences of the workplace conducted for the TUC. Two-thirds of employed people say that the amount of work they are expected to do has grown over the past few years, and more than a third are expected to do unpaid overtime, YouGov found.
Independent on Sunday • Risks 679 • 8 November 2014
Global: Precarious workers face higher risks
Three out of four workers killed last month at a mine in Indonesia part-owned by Rio Tinto were precarious workers, the global union IndustriALL has said. It says cases like this highlight the importance of its 'Stop precarious work' campaign, with studies linking precarious work to higher injury and sickness rates and poorer health overall.
IndustriALL news release • Wall Street Journal • More on the hazards of insecure work • Risks 675 • 11 October 2014
Britain: Agency worker loses arm at recycling firm
A waste recycling firm in Scotland has been fined for serious safety failings after an agency worker severed his left arm at the shoulder while clearing a conveyor belt blockage. Steven Dawson, then aged 28, was working as a line supervisor for Lowmac Alloys Ltd at its premises in Irvine, when the incident happened on 8 February 2011.
HSE news release • STV News • Risks 675 • 11 October 2014
Global: Union body steps up precarious work campaign
The global union IndustriALL is calling on its affiliates worldwide to mobilise their members to 'STOP Precarious Work.' It says regular, permanent and direct employment remains under constant attack from multinationals and other forces that are promoting precarious work, linked to higher rates of occupational injury and ill-health."
IndustriALL news release and report, Negotiating security: Trade union bargaining strategies against precarious work • IndustriALL STOP Precarious Work campaign • More on health and safety and insecure work • World Day for Decent Work • Risks 670 • 7 September 2014
Britain: Company back in court for criminal failings
A Tyneside company has appeared in court for criminal safety breaches for the second time in less than a year after a forklift truck overturned at its factory in Burnopfield, injuring an agency worker. HSE inspector Cain Mitchell said: "The case is all the more serious as it is the second time in less than a year that Radford HMY Group Ltd has been prosecuted for safety failings."
HSE news release and workplace transport webpages • Risks 658 • 14 June 2014
Britain: Zero hour contracts leave workers hard pressed
The majority of workers on zero hours contracts earn less than the living wage and are at risk of abuse, the TUC has said. The union body was commenting ahead of the publication of new official figures which indicated there are now well over 1 million zero hours contracts in the UK.
TUC news release • PCS news release • Usdaw news release • BBC News Online • The Independent • More on health and safety and insecure work • Risks 652 • 3 May 2014
Britain: Agency worker injured in poorly guarded machine
A Welwyn Garden City manufacturing firm has been prosecuted after an agency worker suffered a hand injury when clearing a blockage on a poorly-guarded palletiser machine. The 33-year-old worker, who does not wish to be named, was attempting to restart a machine at Sika Ltd's factory after dealing with the blockage when his right hand was struck by a moving part.
HSE news release and manufacturing webpages • Risks 647 • 22 March 2014
Britain: UCATT welcomes false self-employment move
Treasury plans to clampdown on bogus self-employment have been welcomed by UCATT. The construction union has argued consistently that the widespread practice by employers of wrongly designating workers as self-employed has denied the Treasury millions and robbed workers of essential employment and safety protections.
UCATT news release. Government webpage on the false self-employment consultation • Risks 647 • 22 March 2014
Britain: Government sure to fail on zero hours
Proposals from ministers on zero hours contracts will fail to stem the widespread exploitation of workers, the TUC has said in its response to a government consultation. The TUC submission highlights how zero hours work is dogged by low pay, under-employment, and job and income insecurity.
TUC news release and consultation submission •  The Guardian •
More on the health and safety risks of insecure employment •
The TUC is organising Fair Pay Fortnight from Monday 24 March to Sunday 6 April. It will be a series of events across England and Wales to raise awareness about falling living standards • Risks 646 • 15 March 2014
Britain: Safety concerns remain after track worker death
Rail staff are scared they will lose their jobs if they speak out about safety, a BBC investigation has found. BBC's Inside Out programme examined the death of a contract worker who was hit by a train on the track; Scott Dobson, 26, died near Saxilby, Lincolnshire, in December 2012.
BBC News Online • Inside Out, 3 February 2014 • Risks 641 • 8 February 2014
USA: Injury risk increases with multiple jobs
People who hold down more than one job not only experience an increased risk of injury at work, but when they're not at work as well, according to a new study. The research, published in the January 2014 issue of the American Journal of Public Health, found that multiple job holders had a "significantly" higher injury rate per 100 workers for work- and non work-related injuries when compared to single job holders.
The Pump Handle. Helen R Marucci-Wellman, Joanna L Willetts, Tin-Chi Lin, Melanye J Brennan, and Santosh K Verma. Work in Multiple Jobs and the Risk of Injury in the US Working Population, American Journal of Public Health, volume 104, number 1, pages 134-142, January 2014 [abstract] • Risks 637 • 11 January 2014
Britain: Legal challenge against zero hours contracts
Zero hours contracts are facing a legal challenge, after a part-time worker with SportsDirect.com decided to take her case to an employment tribunal. Elizabeth George, the barrister in the employment team of law firm Leigh Day who is acting for Zahera Gabriel-Abraham, said: "There was no practical difference between the obligations put on my client by the company and those placed on full-time staff," adding: "The 'casual' part-time employees in this case are employees in the conventional sense and denying them their paid holidays, sick pay and bonuses is unlawful."
Leigh Day news release • 38 Degrees blog • Risks 618 • 17 August 2013
Global: Job worries raise heart disease risks
There is a "modest association" between self-reported job insecurity and coronary heart disease (CHD), a major study has found. In a response welcoming the British Medical Journal paper, Paul Nicholson, chair of the British Medical Association's Occupational Medicine Committee, noted job insecurity is also linked to increased sickness and raised cholesterol levels and blood pressure, adding the new study was important "because we are living in 'VUCA times', that is to say the world is: Volatile, Uncertain, Complex and Ambiguous."
Marianna Virtanen and others. Perceived job insecurity as a risk factor for incident coronary heart disease: systematic review and meta-analysis, British Medical Journal, volume 347, f4746, 2013, published online 8 August. Response to the article from BMA OMC chair Paul Nicholson • TUC news release • The Mirror • More on job insecurity • Risks 618 • 17 August 2013
Britain: Government must act to halt zero hours culture
Urgent action is needed to stop the growth of the zero hours culture, unions have said. The call came after the Office for National Statistics (ONS) admitted it had dramatically underestimated the extent of zero hours work, and then research published by the human resources organisation CIPD suggested the problem could still be much more serious than the government accepts, with a possible one million zero hours workers in the UK – four times the revised government estimate.
TUC news release • CIPD news release • Unite news release • UNISON news release • UCU news release • Prospect news release • BECTU news release • TUC Touchstone blog • The Work Foundation news release • The Guardian • Risks 617 • 10 August 2013
Britain: Sports Direct faces flak over zero hours contracts
Pressure is mounting on Mike Ashley and his Sports Direct empire over its use of zero-hours contracts for part-time employees as Unite this week demanded a meeting with the billionaire businessman. Politicians, campaigners and charities called on the UK's biggest sports retailer to change its policy after Unite revealed it was using the no-rights contracts for 90 per cent of its workforce.
Unite news release • The Guardian • The Independent • More on insecure work and safety • Risks 616 • 3 August 2013
Britain: Rail casualisation is a dangerous rip off
Contractors are using bogus self-employment on zero hours contracts to rip off rail workers and create a cut-price and dangerous railway system, according to a new report from the rail union RMT. The report was released on 23 July, to coincide with a meeting between the rail unions and the Office of Rail Regulation (ORR) where the union demanded that both the industry watchdog and Network Rail "take urgent and decisive action to stamp out casualisation in the rail industry which is hitting the workforce and compromising safety."
RMT news release and report: The Great Rail Payroll Rip Off • Safety on the line, BBC Radio 4 Face the Facts • Risks 615 • 27 July 2013
Britain: Concern at 'shocking' rise in zero hours contracts
The government should look at regulating zero hours contracts, the TUC has said. The union was commenting after figures published by shadow health secretary Andy Burnham MP revealed over 300,000 workers in the care sector alone are employed on zero hours contracts.
TUC news release • The Guardian • BBC News Online • Resolution Foundation news release and report, A Matter of Time: the rise of zero-hours contracts, Matthew Pennycook, Giselle Cory and Vidhya Alakeson, Resolution Foundation,  June 2013. More on the hazards of insecure work • Risks 612 • 6 July 2013
Britain: TUC wants tougher rules on zero hours contracts
The TUC is calling on Vince Cable to impose tough new regulations on zero hours contracts, after he announced that his officials are conducting a review. Frances O'Grady, the general secretary of the TUC, said: "With the tough times set to continue, now is the perfect time for the government to be reviewing – and hopefully regulating – the increasing use of these exploitative contracts."
TUC news release • The Guardian • Personnel Today • More on insecure work and health and safety • Risks 610 • 22 June 2013
USA: OSHA initiative to protect temporary workers
Temporary employees in the US will be better protected from workplace hazards, the official safety enforcer has pledged. The Occupational Safety and Health Administration (OSHA) sent a memorandum to the agency's regional administrators directing field inspectors to assess whether employers who use temporary workers are complying with their legal safety responsibilities and newly created code in their information system to denote when temporary workers are exposed to safety and health violations.
OSHA news release and OSHA temporary workers memo • More on temporary worker health and safety • Risks 603 • 4 May 2013
Britain: Deregulating agency work a mistake
Government plans to repeal regulations which control how employment agencies operate and replace them with a system of self-regulation will lead to more exploitation, the construction union UCATT has warned. Under the government's proposals included in a consultation by the Department for Business, Innovation and Skills (BIS) which closed on 11 April, the Employment Agencies Act and the existing regulations covering employment agencies would be scrapped.
UCATT news release and full consultation response • Risks 601 • 20 April 2013
Britain: More firms using zero-hours contracts
Almost a quarter of Britain's major employers now recruit staff on zero-hours contracts that keep workers on standby and deny them regular hours. According to government estimates, 23 per cent of employers with more than 100 staff have adopted the flexible contract terms for at least some staff following a surge in the number of public sector services contracted out to private providers.
The Guardian article and related comment • More on the health impact of insecure work • Risks 600 • 13 April 2013
Brazil: McDonald's gets $4m fine for zero hours contracts
In Brazil, fast food giant McDonald's was this year fined US$4 million for operating a zero-hours scheme under which workers sat in the "break rooms" without being paid, until the employer determined there were a sufficient number of customers for hours to be counted. The court ruling required McDonald's to eliminate the working time scheme throughout Brazil and ordered it to provide healthy meals to its workers.
IUF news report • Equal Times • More on the health impact of insecure work • Risks 600 • 13 April 2013
Britain: Workman fined for friend's fall through roof
A self-employed maintenance worker has been fined after a casually-employed friend fell through the roof of a disused factory. The injured man, in his forties, suffered a broken elbow when he fell three metres through the asbestos cement roof at a disused rubber factory at Bullo Pill, Newnham, in the Forest of Dean on 4 September 2012.
HSE news release and falls webpages • Hazards insecure work webpages • Risks 598 • 23 March 2013
USA: 'Expendable' insecure workers need protection
A new report is urging the US government's safety regulator to step up efforts to protect the soaring number of 'contingent' insecure workers. The report notes that contingent workers are disproportionately racial minorities and often come from vulnerable socioeconomic backgrounds.
At the company's mercy: Protecting contingent workers from unsafe working conditions, CPR, 2013. AFL-CIO Now blog • The Pump Handle • Risks 590 • 26 January 2013
Britain: Horror death in a small firm
The dangers of informal work in small firms has been highlighted by a workplace tragedy. Welder Martyn Heal, who was paid £60 a day cash-in-hand for three days a week, died over four months after being badly burned when his shirt caught light while working on a gate, an inquest heard.
Western Daily Press • The Bristol Post • More on the dangers of precarious work • Risks 590 • 26 January 2013
Britain: Quick fire move leaves workers dangerously insecure
A government move that will make it easier to for firms to fire their staff will do nothing for the economy but will leave workers much more insecure, the TUC has said. The warning came after ministers announced the 90-day consultation period before large-scale redundancies can take place is to be cut to 45 days from April 2013.
TUC news release • BIS news release • BBC News Online • More on job insecurity and health • Risks 587 • 22 December 2012
Britain: Job fear is affecting the health of UK workers
The harsh economic climate, austerity-related job cuts and job loss fears in those still in work is having a real impact on the health and well-being of workers, according to the newly published findings of a TUC safety survey. TUC general secretary Brendan Barber commented: "Fears about how austerity is affecting peoples' jobs and their families is having a real impact on the health and well-being of UK workers."
TUC new release and biennial survey of safety reps • More on insecure work and safety • Risks 581 • 10 November 2012
Britain: Agency worker regulations criticised by Unite
Unite has warned against complacency as many agency workers are being poorly treated, the current  Agency regulations have too many loopholes and the enforcement of the legislation is not strong enough. An independent survey by Unite showed that in the vast majority of workplaces that employ agency workers (78 per cent of those surveyed) these workers are still second class and are not getting equal treatment.
Unite news release • Risks 580 • 3 November 2012
Canada: Union warning on 'survivor syndrome'
An epidemic of 'survivor syndrome' is affecting overworked and demoralised workers in workplaces shedding staff as job fear grips the working population, a Canadian public sector union has warned.
PSAC news release • More on health and safety and insecure work • Risks 576 • 6 October 2012
Global: Unions challenge agency labour 'explosion'
The 'massive expansion' of insecure agency work is undermining employment and safety standards and should be reversed, unions worldwide have warned. "Employment via agencies, labour brokers, dispatchers and contractors is being used to wholesale replace permanent, direct employment," said Jyrki Raina, general secretary of body IndustriALL.
IndustriALL news release, Stop precarious work campaign and The Triangular Trap report. More on health and safety and insecure work • Risks 576 • 6 October 2012
USA: Work in a depression is depressing
Watching people lose their jobs all around you will make you sick, even if you hold onto your own job, new research has found. Researchers from the University of Michigan examined the impact of the current 'Great Recession' found perceived job insecurity "was associated with significantly higher odds of reporting fair or poor self-rated health at the time of interview, symptoms over the past 2 weeks suggesting major or minor depression, and an anxiety attack in the past 4 weeks, even after adjustment for workers' socio-demographic characteristics and previous health problems."
Burgard, Sarah A; Kalousova, Lucie; Seefeldt, Kristin S. Perceived Job Insecurity and Health: The Michigan Recession and Recovery Study, Journal of Occupational and Environmental Medicine, volume 54, issue 9, pages 1101–1106, September 2012. The Pump Handle • More on health and safety and insecure work • Risks 576 • 6 October 2012
Britain: Women's work gets more insecure
Falling numbers of women in full-time work and a rise in their self-employment and involuntary part-time and temporary employment has left women increasingly insecure at work, a TUC economic report reveals. TUC general secretary Brendan Barber said: "Replacing full-time jobs with low-paid, insecure work will drive down wages and keep this country mired in recession."
TUC news release and Economic report: Women and work • Hazards insecure work webpages • Risks 574 • 22 September 2012
Global: Insecure work leaves workers 'trashed'
A global epidemic of insecure work is leaving a trail of sick and injured workers in its wake, a new report had concluded. 'Trashed!', published in the workers' health journal Hazards, says the "most reliable product of many modern workplaces is now insecurity, with those in permanent jobs fearing the axe in the name of automation or austerity, and a growing slice of the workforce already outsourced or semi-detached from employment, on zero hours contracts, temping or skirting around for scraps in the informal economy."
Hazards magazine and insecure work webpages • Industriall news report, leaflet and details of the 7 October 2012 precarious work day of action • Sign up to the 'Stop precarious work' cause • Risks 573 • 15 September 2012
Britain: Job insecurity linked to soaring hospital admissions
Rising numbers of people are being admitted to hospital with stress caused by the recession, official figures have revealed. A total of 6,370 people were hospitalised with stress in the 12 months to May, a seven per cent rise on the previous year and 47 per cent up on 2007/8 when the economic crisis hit, according to the Health and Social Care Information Centre (HSCIS).
HSCIC news release and full report • The Independent • Morning Star • Risks 573 • 15 September 2012
Britain: Labour to review of bogus self-employment
The Labour Party is to launch a review into bogus self-employment. In his speech to the TUC Congress in Brighton, shadow chancellor Ed Balls said: "On the issue of bogus self-employment in the construction sector and more widely, I am determined that we look at this issue again."
Ed Balls' speech to TUC • UCATT news release • Daily Mirror • Risks 573 • 15 September 2012
Australia: Insecure work is making workplaces less safe
The rise of insecure work in Australia over the past few decades has made employees less able to speak up for their rights and workplaces less safe, Australia's top union body has warned. ACTU president Ged Kearney, speaking on United Mineworkers Federation Memorial Day, said a constantly changing workforce often meant that safe systems of work were not fully-implemented, and casual, contract and labour hire workers were also less likely to speak up if they thought something was unsafe because they feared the sack.
ACTU news release and Ged Kearney's speech • 13 September 2012
Britain: Labour to review of bogus self-employment
The Labour Party is to launch a review into bogus self-employment. In his speech this week to the TUC Congress in Brighton, shadow chancellor Ed Balls said: "Construction is one of the most important industries," adding: "Let's work together to make it stronger, safer and fairer for the future."
Ed Balls' speech to TUC • UCATT news release • Daily Mirror • 13 September 2012
Hong Kong: Nurses, cops and teachers at greater risk of suicide
Nurses, police officers and teachers are more prone to suicide than people in other work, figures released by Hong Kong University's Centre for Suicide Research and Prevention. Hong Kong's focus this year for World Suicide Prevention Day – 11 September - is employment as it found self-perceived job insecurity may further increase suicide risk.
Hong Kong Standard • 13 September 2012
USA: Lawsuit highlights warehouse subcontracting perils
The warehousing industry typically involves complicated layers of companies using, owning, operating and staffing warehouses, making the sector ripe for labour abuse. Warehouse worker groups, including the union-based Warehouse Workers Uniting (WWU), have long argued that unrealistic and escalating productivity quotas are among the things that lead to high chronic and acute injury rates in warehouses.
In These Times • Risks 572 • 8 September 2012
Britain: Bar blacklisters from official contracts – MP
Labour MP Jim Sheridan has called for construction firms guilty of blacklisting trade unionists to be barred from publicly funded projects. The MP, speaking at a 27 August Blacklist Support Group protest outside the Glasgow HQ of construction giant Balfour Beatty, said: "Any contracts from British taxpayers' money - don't give them to criminals like Balfour Beatty who are blacklisting people."
Jim Sheridan MP news release • Morning Star • Blacklist blog • Risks 571 • 1 September 2012
Britain: Balfour Beatty boss accused of perjury
A blacklisted construction worker has accused a top executive of construction giant Balfour Beatty of perjury. Colin Trousdale, a blacklisted electrician and UNITE member from Manchester alleged the company's human resources director, Gerry Harvey, had sent a letter to the court asserting "there is no blacklist, we are not blacklisting you, you are paranoid" – but his blacklisting file contained company documentation proving this wasn't true.
Blacklist blog • Risks 571 • 1 September 2012
Canada: Alberta erases farm workers deaths
The Alberta provincial government in Canada has been condemned for removing farm fatalities from reports on occupational deaths. Alberta Federation of Labour says the move is an example of how ''agricultural workers are being erased in Alberta.'' The federation says the province announced its plans on a government website and offered no meaningful explanation for the change. Alberta is the only province in Canada where farm workers aren't covered by occupational health and safety laws.  
OHS • Risks 570 • 25 August 2012
Australia: Study confirms insecure work is dangerous
New official Australian research showing casual workers are 50 per cent more likely to be injured at work is solid proof that insecure work leads to unsafe working environments, the country's top union body has said. 'Australian work-related injury experience by sex and age, 2009-2010', published by national safety regulator Safe Work Australia, found that casual workers without leave entitlements reported 54 injuries per million hours worked compared with a rate of 35 for those with leave entitlements.
Safe Work Australia news release. Australian work-related injury experience by sex and age, 2009-2010, Safe Work Australia, 30 July 2012 [pdf] • ACTU news release. ABC News • Risks 567 • 4 August 2012
Canada: Temp workers are falling through cracks
Complex employment relationships, gaps in the regulatory system and job insecurity can leave low-wage temp agency workers more vulnerable to workplace injuries, according to new research from the Toronto-based Institute for Work and Health. Researcher Ellen MacEachen and colleagues found "that low-wage temp agency workers are less well protected because of the complex working relationship in which they find themselves." At Work, Issue 69, IWH, Summer 2012 and related research presentation, The management of OHS and return-to-work issues in temporary work agencies [pdf] • Risks 567 • 4 August 2012
USA: Groundbreaking law to protect temporary workers
Temporary staffing agencies in Massachusetts will no longer be allowed to send temporary workers to jobs without informing workers of the name of their employer, the wages they will be paid, or the basic safety training they need to protect themselves from jobs that are often hazardous. The law, which will come into effect in January 2013, has been welcomed by safety campaigners, who say it shines a light on those temp agencies operating in the darkness of Massachusetts' underground economy, where worker injuries are often unreported and millions of dollars in overtime and minimum wages are unpaid.
Governor of Massachusetts Office news release • MassCOSH news release • Temporary Worker Right to Know Act • Boston Globe • Risks 569 • 18 August 2012
Japan: Officials probe bogus radiation readings
Subcontracted workers at Japan's earthquake wrecked Fukushima Dai-ichi nuclear power station may have been forced to submit bogus reports on their radiation exposures so they could remain on the job longer. An official investigation began last week after media reports of a cover-up at the plant, which suffered multiple meltdowns following the March 2011 earthquake and tsunami disasters.
Washington Post • The Guardian • Risks 566 • 28 July 2012
USA: Agency work can kill
Lax regulations, loose enforcement and employer resistance to union health and safety committees inflict a ghastly toll of illness, injury and death on the job, the global foodworkers' union federation has warned. IUF was commenting after the grisly death of a contract worker at a US Nestlé plant, a tragedy it says provides further evidence that agency workers face even greater risks due to their precarious employment status.
IUF news release • MASSCOSH news report • Risks 566 • 28 July 2012
Britain: Teens 'narrowly escaped death' at work
A Derbyshire manufacturing firm and its director have been fined after two teenage agency workers 'narrowly escaped death' in a fall from a platform above a heap of supermarket trolleys. Derby Crown Court heard that the two 18-year-olds were helping to put scrapped trolleys into a skip using a makeshift lifting platform designed by Storetec Limited director Brian Crossan to fit a forklift truck.
HSE news release • Derby Telegraph • Risks 561 • 23 June 2012