Hazards issue 138, June 2017
Surviving asbestos: UN treaty 'discredited' as asbestos lobby claims victory
A United Nations (UN) treaty on the control of toxic exports has been 'utterly discredited', unions have said. The charge came after a bid to add chrysotile asbestos – the only form of the cancer-causing fibre still traded – to the
Rotterdam Convention's list
of the most hazardous substances was blocked for a sixth time.
On 3 May 2017, at a UN-organised conference in Geneva, out of the 156 countries party to the convention, just seven with commercial interests in continued asbestos use – Belarus, India, Kazakhstan, Kyrgyzstan, Russia, Syria and Zimbabwe – vetoed chrysotile's addition to the treaty's 'prior informed consent' list, a measure that would require exports to be accompanied by a health warning. It requires a unanimous decision of government representatives for a substance to be listed. Addition of chrysotile to the list cannot now be considered until the next conference, in two years' time.
It was an outcome that caused anger and exasperation in the contingent of global unions, campaigners and asbestos disease sufferers in attendance in Geneva to put the case for long overdue action that would both save lives and that met all the UN's criteria for listing.
Brian Kohler, safety director of the global union IndustriALL, said: "The Rotterdam Convention is broken. Enough is enough. For the Convention to be effective, it must stop allowing the financial interests of a few powerful oligarchs to threaten the lives of millions. It's a shameful example of a dysfunctional system and a discredit to the entire United Nations system. How many hundreds of thousands of people must die from asbestos-related diseases before the parties to the Rotterdam Convention change this?"
The global construction union BWI described the UN negotiations as a 'biennial farce'. General secretary Ambet Yuson said "it is outrageous that this is being blatantly and persistently blocked by asbestos exporting countries."
Sharan Burrow, general secretary of the International Trade Union Confederation (ITUC), said: "Another generation will be blighted by asbestos disease as a result of past exposures. But the chrysotile industry is determined to inflict this deadly epidemic on our grandchildren too. This criminal cabal of cancer pushers must be put out of business and brought to justice. We will do all we can to make sure this happens."
An attempt to change the voting rules so a 75 per cent majority could agree listing also failed. The highly toxic pesticide paraquat was another victim of the unanimity requirement, again missing out on listing. The Convention's expert group had said both substances met all the requirements for listing.
KEEP FIGHTING

 Over 3,000 Japanese construction workers and their families held a mass meeting in Tokyo on 19 May 2017, to mark the 9th anniversary of ongoing asbestos compensation litigation. So far only six cases have been settled. Their traditional paper fans – uchiwa – carried a message on each side. The pink face calls for 'an end of the asbestos disaster!'  The blue face calls on the 'government and guilty companies to apologise'. 'Apologise, compensate, eliminate' is a regularly used slogan of the anti-asbestos movement in Japan.


CHEAP SHOT

  In June 2017, residents of Jitikara in  Kazakhstan, many employed by the global asbestos giant Kostani Minerals, attended a pro-asbestos rally. Speakers castigated the efforts of the health and safety campaigners and international trade unions who have called for an asbestos ban, saying the cancer-causing fibre is a "natural and cheap material" that is safe to use.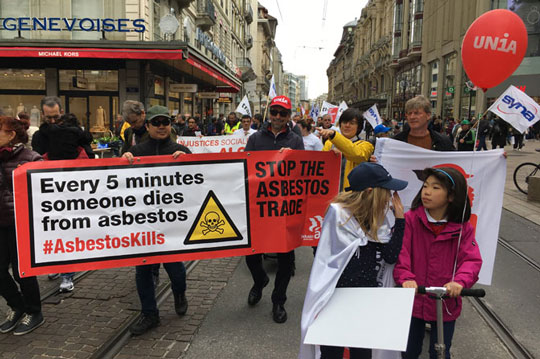 DEADLY DELAY

Around 4 million tons of deadly chrysotile asbestos has been put into homes, schools, workplaces and the wider environment since the last UN discussions two years ago on whether this deadly material should be subject to Prior Informed Consent (PIC) procedures, says BWI. It says the governments that vetoed listing of chrysotile "are determined to protect their asbestos export markets at all costs, by sending as delegates representatives of the chrysotile industry, and giving a platform to phony 'international trade unions for chrysotile,' an industry funded lobby group."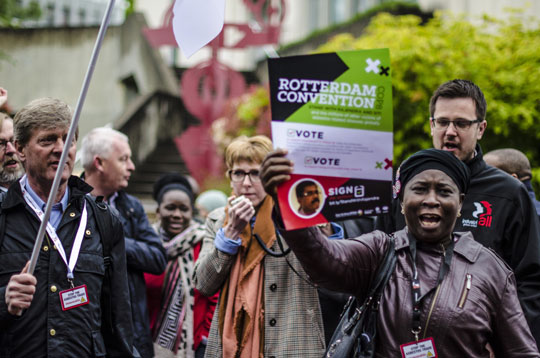 VETO NOT VETOED

Unions backed a proposal to reform the voting rules at the Rotterdam Convention's 2017 conference, so a 75 per cent vote could lead to listing of a hazards substance under the Prior Informed Consent rules. The change would have brought the treaty into line with the Basel and Stockholm conventions, the UN's two other treaties on hazardous substances. But the asbestos lobby's obliging rump of pro-asbestos governments vetoed an attempt to end its veto.


LOBBY'S SHAME

  Global union confederation ITUC is concerned that a 'front organisation' for the global asbestos industry, the International Chrysotile Association (ICA), has "managed to get the recommendation for listing blocked for over a decade. The ICA is notorious for spreading false and misleading information to keep the chrysotile trade afloat."


BEYOND REASON

  After listing of asbestos under the convention's 'prior informed consent' (PIC) provisions was again blocked, the asbestos industry's global lobby group ICA said: "Reason had prevailed." Asbestos disease sufferers Rajendra Pevekar (back centre) from India and Siti Kristina from Indonesia (front right) had earlier told the conference their reasons for supporting adding chrysotile to the PIC list.


REPEATED FAILURE

In May 2017, the Rotterdam Convention secretariat conceded a small handful of asbestos producing nations had again blocked attempts by UN agencies to require basic health warnings on deadly asbestos exports. This sixth success failure to list chrysotile asbestos under the Rotterdam Convention's 'prior informed consent' controls on the most hazardous substances left the treaty 'discredited', global unions said. The agrichemical lobby succeeded in keeping the highly toxic pesticide paraquat off the list.