Hazards, number 146, 2019
Stone dead: India's stone carvers demand action as thousands face a horrible death
Hundreds of stonemasons took to the streets of Pindwara on 1 May 2019, to protest at the deadly dust risks facing the workers building India's temples.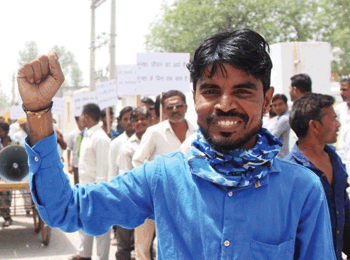 Union leader Ganesh, 31, was diagnosed with the frequently fatal lung scarring disease silicosis at the age of 29. He is unable to walk more than a hundred metres and struggles for breath while talking. Despite his failing health, Ganesh (right) came out to lead the rally because he said he wants to ensure that other workers do not suffer like him.
Pindwara is home to about 230 factories that have built some of India's most famous temples. On May Day, 400 workers occupied the streets of Pindwara's RIICO – the industrial area where the biggest of these factories are located. The workers had one rallying cry – freedom from the occupational disease of silicosis.
According to the Sirohi district's health department, over 1,650 of these temple-building workers are dying after contracting the untreatable lung disease. Workers' advocates say this is an under-estimate, as screening for the disease only started in the area three years ago.
Addressing the rally, union founder member Sohan Lal said: "We stone-carvers are builders of famous temples in Delhi, Ahmedabad, London, New York, Australia. Rich and famous people visit these temples and enjoy the fruits of our labour, while we die of silicosis in big numbers in anonymity. Last year prime minister Modi laid the foundation of Swaminarayan's latest temple project in Abu Dhabi. But what about us, the workers who are building this temple here in Pindwara and are dying in the process?"
Sohan Lal is one of the 1,000 workers in Pindwara that formed the union, Pathar Gadhai Mazdoor Suraksha Sangh, to bring the issue of death in India's temple-building industry to light. The union successfully pressured the district and state health departments to hold regular health camps for Pindwara's stone carvers, with screening results suggesting four in every 10 have silicosis.
The union says employers routinely violate safety rules, arguing they have provided masks and so it is the workers' fault if they fall ill. However, a union-run research project, where workers measured dust levels in 30 factories and monitored workers' lung capacity, found dust levels several times the official limit. Over 70 per cent of workers had "highly compromised" lung capacity.

NO MORE   Union leader Ganesh, 31, is suffering rapidly deteriorating health. He became an activist because he wanted to ensure that other workers do not suffer like him with silicosis.


DUST UP The Swaminarayan religious sect, which has a number of imposing temples across the region and is a big customer of the stone carving companies, distributed silicosis 'awareness' materials that said silicosis was caused by workers' 'irresponsible' behaviour. The leaflet advises stone carvers to use masks and to pray to god to avoid silicosis. It makes no mention of the employers' responsibility to control deadly dust.
ROCK SOLID Over 400 members of the stone carvers' union Pathar Gadhai Mazdoor Suraksha Sangh occupied Pindwara's industrial area on 1 May 2019, demanding measures to end the deadly silicosis risk in temple building work.
CHOKING DUST Because of the extreme silica dust exposures caused by unprotected, high paced work with power tools, workers quickly develop the condition, with some stone carving victims as young as 19-years-old. Investigations show in some stone carving factories, up to 70 per cent of the workforce has seriously damaged lungs.
PERMANENT SOLUTION The Pindwara union Pathar Gadhai Mazdoor Suraksha Sangthan is working with a local Workers' Rights Centre to press for policy changes that will reduce informal work in region. They argue a permanent workforce with rights is necessary for safety and for dust-control technologies to be effectively rolled out.