Hazards, number 161, 2023
EVERYDAY HEROES | Organise! | International Workers' Memorial Day |
No-one should die to make a living. After all, occupational health and safety is now a globally-binding ILO fundamental legal right at work. But bad jobs still kill someone somewhere every six seconds, every day, round the clock. Union organisation puts the solution in all our hands.
June 2023 is the first anniversary of 187 countries at the UN's International Labour Organisation (ILO) agreeing occupational health and safety should be elevated to a top human rights priority – a Fundamental Principle and Right at Work. Politically, it's a game changer. Practically, workers have continued to die, an estimated 3 million in the last year alone. It takes will and not just words to make a difference.
Unions can be the catalyst. Whether you describe it as the 'union dividend', 'union advantage' or 'union effect', there is a long-established, well-tested proof of the life-saving impact of union organisation at work.  It shows walking out or being walked all over can be a life or death decision.
A London School of Economics paper in 2000 concluded: "Strikes and slow-downs serve as efficacious union tools for reducing workplace injuries. Labour possesses vital, tacit, shopfloor knowledge regarding health and safety, knowledge that is imperative for reducing accident rates."
The United Steelworkers (USW) union in North America is teaching its workplace union reps how to go about 'Bargaining for Stop Work Authority to Prevent Injuries and Save Lives.' The purpose is to negotiate programmes that allow reps to stop unsafe or unhealthy operations and processes until hazards are resolved.

It is there in the ILO's core occupational safety and health convention – Convention 155 – which says workers have a right to refuse work where there is "an imminent and serious" danger to life and health. But unions make this right real. And unions expand it to include all potential risks, even if they won't necessarily cause you to drop dead that day.


Infectious improvements
The Covid-19 pandemic showed how critical the union effect can be, for both workers' and public health.
Unions are "associated with 10.8 per cent lower resident Covid-19 mortality rates, as well as 6.8 per cent lower worker Covid-19 infection rates" in US nursing homes, an April 2022 study in the journal Health Affairs reported. "With more than 75,000 Covid-19 deaths among residents in non-unionised nursing homes during our study period, our results suggest that industry-wide unionisation would have been associated with approximately 8,000 fewer resident deaths."
Meat processing plants worldwide were hit with deadly outbreaks, with insecure, low paid workers dying in distressingly high numbers. In 2021, a campaign led by the German foodworkers' union NGG led the country's government to ban subcontracting in the meat sector. Trade union membership increased and a national collective bargaining agreement was signed. Over 35,000 insecure workers were given permanent jobs. A February 2023 review by NGG confirmed substantial job quality and safety improvements, as well as higher pay rates and more breaks.
It was a global phenomenon. Christy Hoffman, general secretary of the international union body UNI, noted: "Throughout the pandemic occupational safety and health has been a trigger for worker activism and union action." She added "unions have stepped up and won improvements to protect workers in the face of a deadly virus."


A simple equation
When union density decreases, risks at work increase – in some cases leading to the reemergence of old and often fatal industrial diseases that had near enough died out.
The anti-union practices now rife in the US coal industry mean the proportion of coal produced in unionised mines has fallen sharply. At the same time the risk of US coalminers dying from lung diseases such as cancer, the frequently fatal lung-scarring disease black lung and chronic obstructive pulmonary disease has risen sharply.
"This higher mortality has also worsened over time with modern miners facing greater risk than their predecessors," a 2023 study by US government occupational health scientists noted, adding lung-scarring dust diseases are "more frequent in younger age groups."
In mines with unions, the protective effect is dramatic.
A 2013 Stanford University study of injury rates in US coal mines concluded: "Unionisation predicts a substantial and significant decline in traumatic mining injuries and fatalities." It found that "overall, unionisation predicts a 13-31 per cent drop in traumatic injuries and a 27-83 per cent drop in fatalities."
A 2018 study in the journal Occupational and Environmental Medicine reported a one per cent decline in unionisation results in about a five per cent increase in the rate of occupational fatalities.  It found anti-union 'right-to-work' laws in the US are tied to a 14 per cent increase in worker fatalities due to decreased unionisation. The study confirmed "the protective effect of unions on workers' safety," and noted: "Policymakers should consider the potentially deleterious effects of anti-union legislation on occupational health."
The consequences of failing to do so can be quick and deadly. In Australia, unions demanded action after observing a devastating resurgence of the lung-ravaging disease silicosis, caused primarily by increased use of an engineered stone with a shockingly high silica content.
In 2022, unions led by the national union centre ACTU won a more protective silica exposure standard that will reduce silicosis deaths by over 80 per cent. A 2022 Curtin University study supported by ACTU estimated the stricter silica rules will save thousands of lives each year, and possibly 80,000 plus over a working lifetime.
The government has since agreed the standard will be tightened further over the next three years to make it the most protective anywhere. Following a February 2023 consultation, Australian unions this year won an agreement with the government that high silica engineered stone would be banned.


No-one was hurt
At their most protective, unions head off risks before they can hurt at all.
Window cleaners in Europe will not be put at a higher risk of deadly falls, thanks to trade union research. A 2022 study by the European union body ETUC and a 2023 campaign with UNI Europa convinced ladder manufacturers to withdraw a proposal which would have lowered the safety standards of their products.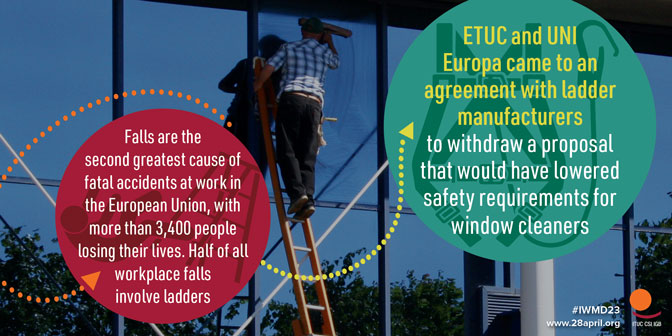 A July 2022 court victory by unions in the Netherlands, working with the global union ITF, ensured that ship managers, ship owners and charterers must honour a clause that prevents seafarers from being assigned dangerous lashing work whenever specialist dock workers trained in this work are available.
Even when bad things happen, unions can secure justice for affected workers and throw the focus onto prevention.
In France in 2023, in a legal precedent, a hospital night worker had the breast cancer that caused her early retirement in 2017 recognised as an occupational disease.
This decision was the result of a large-scale 'breast cancer collective' campaign created by the union CFDT.


Information isn't power
Unions can help obtain information on hazards at work and on the impact those exposures have on your health and safety.  But information isn't power. Power is power. And power – and with it the ability to both recognise a risk and do something about it – only comes through collective strength and action.  That can mean securing safer working conditions or workplace justice through negotiation or industrial action.
Across the UK, millions of union members have already in 2023 secured pay rises and better conditions at work through walk outs and working to rule. Resisting speed up and increased workloads, job losses and pay cuts are all health and safety wins. If your work means you can't afford to live, or are too exhausted or overworked to have a life, it is harder to stand up for your rights. Long hours, threats and job blackmail all loom large.

It is not easy, that why you need your union. You are in a fight for your life.
References
ITUC 28 April infographics in English, French and Spanish.