Hazards special online report, June 2017
Tower block inferno must mean an end to the Tory deregulation fetish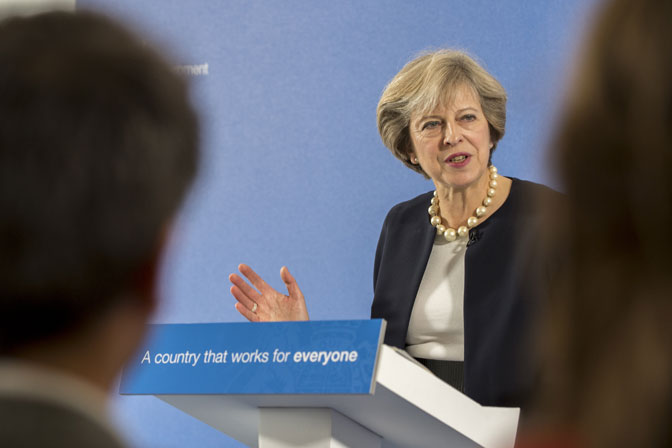 Even as the nation watched in horror as fire ripped through Grenfell Tower, questions about government culpability were being asked. The Conservatives had discarded critical fire, building, product, environmental and workplace safety protections and shackled and starved regulators. Hazards editor Rory O'Neill says a government with a criminal disregard for human life has now been left with blood on its hands.
It was a tragedy that touched millions. And many of those killed or made homeless by the devastating Grenfell Tower fire in London on 14 June 2017 were union members, and unions are actively supporting the affected families.
The TUC has said while this must be the immediate priority, "it is clear that we cannot see Grenfell Tower as a 'one-off' disaster but as something that is much more symptomatic of the society we live in and the value that it places on human life, especially the lives of the poor, the dispossessed and the vulnerable."


BLUE BLOOD Tory policies attacking regulators, services, welfare, employment rights and fire, building, product and workplace safety and environmental protection didn't hurt everyone. But for the worst affected, they were deadly. The Metropolitan Police estimate 'around 80' people died in the Grenfell Tower fire.


The TUC's head of safety Hugh Robertson added: "From a health and safety point of view I also feel incredible anger that so many warnings were ignored. Tower block fires have already been the subject of several inquiries after the 1999 fire in Irvine and the 2009 Camberwell fire. There have also been horrendous fires in tower blocks abroad – the best known being Melbourne and Dubai.
It is not that we did not know the dangers, simply that the government did not act, and when tenants' groups did speak up their voice was ignored."
He said the tragedy was in part testimony to "the government's ideological obsession with deregulation."


Goodbye rules
Robertson's right – and the workplace has been a frontline target of the regulatory cull. Theresa May's government even lists reducing the thoroughness of workplace fire inspections as one of its Cutting red tape success stories, "allowing managers to quickly get back to their day job." All this is part of a government-wide campaign that "works with business, for business", the website says.
Slashing red tape has been a go-to crowd-pleaser – particularly the business crowd – deployed by successive Tory administrations.
In 2012, then Conservative prime minister David Cameron's new year message declared the government was "waging war against the excessive health and safety culture that has become an albatross around the neck of British businesses" (Hazards 117). Cameron promised to slay the "health and safety monster" and "kill off the health and safety culture for good."
And the unremitting Tory assault on red tape has had a major impact. A third of environmental health officers – the inspectors overseeing workplace safety in offices, warehouses, shops and many other non-industrial workplaces – have gone since 2010, with many local authorities now undertaking no workplace safety inspections at all.

By 2019/20, the Conservatives will have decimated the Health and Safety Executive (HSE), with the safety regulator's budget slashed from the £281m it was allocated in Labour's last year in office, to just £128.4m, a cut of 45 per cent (Hazards 134).
HSE's frontline inspector numbers are already down by 25 per cent and the number of workplace inspections has been cut by 70 per cent. And the regulator is under orders not to regulate. It has been banned from 'proactive' preventive inspections in most workplaces (Hazards 120).


Hello lawlessness
In 2013, Hazards warned that the problem with HSE was that Conservative ministers "have tied its hands, slashed its budget and hijacked it" (Hazards 122).


THEY KNEW  Hazards has warned the government repeatedly that its ideological obsession with cutting red tape was a deadly mistake, including postcard campaigns targeting prime ministers David Cameron and Theresa May.

But worse was to come, with a now on-message HSE instructed last year to step further back from regulatory work and to commercialise its operation (Hazards 134).
The HSE-revised Enforcement Policy Statement (EPS) introduced in 2016 took a further leap away from pursuing safety criminals.  The one-time dedicated safety regulator now says when it comes to criminal breaches of safety law "inspectors should take particular account of how far duty holders have fallen short of what the law requires and the extent of the risks created."
It is no longer enough to just break the law, you have to really break the law.
The red tape rhetoric got louder and the tone harsher after Theresa May's January 2017 promise of a 'hard Brexit', with the right-leaning press even more shrill in their support for the promised 'bonfire of regulation'. 
The Daily Telegraph launched a 'Cut EU Red Tape' campaign in March 2017, on the day Theresa May triggered article 50, starting the Brexit process.  Foreign secretary Boris Johnson was one of a slew of senior Tories to herald a new deregulatory era, promising that Brexit would "get rid of some of the burdensome regulation that has accreted over the last 44 years".
Iain Duncan Smith pledged to "whittle away" the regulation "burden" with its "intrusions into daily life of citizens". Lord Lawson called for a "massive" regulatory cull, adding: "We must lose no time."
And they might have got away with it. Occupational fatalities generally occur in ones and twos. Victims of occupational diseases – the cancers, lung conditions, suicides, heart attacks and strokes – usually die safely out of view, in a hospice, or home or hospital. It's easy to ignore the anger and the tears when the victims are safely out of sight.
But Grenfell Tower changed all that. Like the 1988 Piper Alpha oil rig disaster in the North Sea in which 167 offshore workers died, hard questions do get asked when there are many, many deaths in one devastating incident.
And those Tory grandees who eroded protections and seeded a 'we don't care, so you don't have to' climate, may belatedly be called to account. Although while the Metropolitan Police has said its investigation into the Grenfell Tower fire will consider manslaughter charges, it is likely they will focus lower down the food chain.
So far no minister or former minister has been interviewed under caution in relation to the Grenfell Tower disaster. But a long sequence of government acts and omissions spanning years suggest a number, including current and former Cabinet ministers, have questions to answer.


Smoking gun
The 'around 80' deaths at Grenfell Tower did not happen out of the blue. A long succession of warnings to ministers from inquests, parliamentary groups and experts had gone unheeded. A dozen letters sent by the All-Party Parliamentary Fire Safety and Rescue Group warned the government it "could not afford to wait for another tragedy."


REMEMBER THEM  An estimated 80 people died and hundreds were left dispossessed and homeless when fire consumed Grenfell Tower in London in the early hours of 14 June 2017. The local community is crying out for justice. The same flammable cladding sheaths thousands of workplaces – while local authorities have been ordered to check their tower blocks, the TUC says the government has ignored the risk facing workers in hi-rises.

Four ministers – all from the Department for Communities and Local Government –received letters but did not strengthen the regulations.
The parliamentary group says it has been fobbed off by ministers consistently since 2010, prompting this 2014 warning: "As a consequence the group wishes to point out to you that should a major fire tragedy, with loss of life, occur between now and 2017 in, for example, a residential care facility or a purpose built block of flats, where the matters which had been raised here, were found to be contributory to the outcome, then the group would be bound to bring this to others' attention."
Brandon Lewis, the Tory housing minister between 2014 and 2016, refused calls in 2014 to improve fire safety regulations so they would require sprinklers because, he said, it could discourage house building. He said it was not the "responsibility" of government to pass such a law.
He told MPs: "We believe that it is the responsibility of the fire industry, rather than the government, to market fire sprinkler systems effectively and to encourage their wider installation." He said the Conservative government had committed to being the first to reduce regulations nationwide. Lewis added: "The cost of fitting a fire sprinkler system may affect house building – something we want to encourage – so we must wait to see what impact that regulation has."
The failure to act continued under Lewis' successors as housing minister. Gavin Barwell, Theresa May's new chief of staff and who held the housing brief until he lost his seat in the June 2017 election, promised a review last year into fire regulations in tower blocks, but then failed to act – despite being warned of the potential for a devastating blaze.
The review was called for after the 2013 inquest into the Lakanal tower block fire in Camberwell, south-east London, which killed six people and injured 20 in 2009, ruled the regulations covering such buildings were not up to scratch. The call for a review came in a 28 March 2013 letter from the coroner to Eric Pickles, then secretary of state for communities and local government. The letter also urged the minister to encourage 'retrofitting' of sprinklers in hi-rise buildings.


Mindless policy
But this was a government predisposed ideologically to resist and reject regulation. It failed to act on both the warnings from MPs and from the coroner. "There is no doubt that the reason for government inaction was anti-regulatory zeal," said TUC's Hugh Robertson.
It is policy obsession that has also caused alarm bells outside the UK. The New York Times has said the Grenfell Tower disaster was the consequence of 'mindless deregulation' causing 'senseless harm'. The 22 June 2017 editorial urges US president Donald Trump to rethink his decision to adopt a deregulation programme modelled on that introduced by the Conservatives and implicated in the Grenfell Tower disaster.
"Supporters of Mr Trump's mechanistic two-for-one deregulation pretend that public health and safety would take care of themselves as business is freed of what they say are undue burdens. But this approach is not about safety or business burdens, it's about increasing profits by reducing compliance costs," the paper notes. "After the Grenfell Tower fire, the dangers of reflexive rejections of regulation, like Mr Trump's executive order, are clearer."
In the UK, the TUC and all the major health and safety institutes have raised similar concerns, urging the UK government to heed the lesson of the Grenfell Tower tragedy and end its ideologically driven deregulation of health and safety law.
In a 21 June 2017 open letter to prime minister Theresa May, over 70 organisations and figures from the UK's safety and health profession jointly called for 'a political sea change in attitude' towards health and safety regulation and fire risk management following the tragedy. Within days the number of signatories had swelled to nearly 1,000 [see: Theresa May urged to scrap safety deregulation, below].
TUC head of safety Hugh Robertson explained: "No-one in the trade union movement is going to try to make political capital out of the deaths of those victims of the fire in Grenfell Tower, however we have a duty to ensure that the safety of all our members is guaranteed as a human right.
"We also need to ensure that the lessons are learned from the disaster so that our fire regulations and enforcement regime are as robust and effective as possible."
---
Theresa May urged to scrap safety deregulation
The UK government has been urged to end its ideologically driven deregulation of health and safety law in the wake of the Grenfell Tower blaze. In an open letter to prime minister Theresa May, over 70 organisations and figures from the UK's safety and health profession jointly called for 'a political sea change in attitude' towards health and safety regulation and fire risk management following the tragedy.
The 21 June letter also says the government should complete its review of the Building Regulations 2010 – the regulations which cover fire safety within and around buildings in England – as a matter of urgency, and to include a focus on improved safety in the current parliament.
The letter is signed by safety bodies including the Institution of Occupational Safety and Health (IOSH), the Royal Society for the Prevention of Accidents (RoSPA), the British Safety Council, the TUC, Unite and the Chartered Institute of Environmental Health (CIEH). Within days the number of signatories had swelled to nearly 1,000.
"We believe it is totally unacceptable for residents, members of the public and our emergency services to be exposed to this level of preventable risk in modern-day Britain," the letter states. "At this crucial time of national reflection and sorrow, we urge all politicians to re-emphasise the need for effective health and safety regulation and competent fire risk management.
"These are fundamental to saving lives and sustaining our communities. We believe it is vital that this disaster marks a turning point for improved fire safety awareness and wider appreciation that good health and safety is an investment, not a cost."
The letter concludes: "We, leaders in health and safety in the UK, call on you to scrap the government's approach to health and safety deregulation and think again."
• Sign the letter to the prime minister calling for an end to deregulation.
• Check out and 'like' the Hazards 'We love red tape' facebook page.
---