Hazards, number 154, 2021
UNION ACTIVE! | Stunning win for union activists at mega-construction site
It took guts, guile and some impressive organising to see off a serious threat to safety on Hinkley Point C project, Europe's biggest construction site. But for Unite members the mixture of talking and walking stopped a deskilling plan that could have seen safety critical electrical workers replaced by a cut-price, skills-lite alternative.
It was all about cost. Contractors Balfour Beatty and NG Bailey, two major players on the Hinkley Point C (HPC) project, were seeking to introduce training standards for a new position of 'electrical support operative' (ESO). The company wanted to teach apprentices to support qualified electricians to install cable trays and ladders and help pull cables. But it sparked fury among electricians who saw the move as another attempt to "deskill" the industry and save money.


STOP THE JOB Union site safety activist Dave Smith addressed a protest at a major NG Bailey contract at the Atomic Weapons Establishment, Burghfield. "I've not come all this way to stand on a verge," he said at the 26 May 2021 protest. "I've come all this way to stand over there, in front of the gate. All those in favour of direct action, put your hand up now." Protesters marched on the gate and successfully shut down the site, despite attempts by the police to block their progress. Within two weeks, NG Bailey and Balfour Beatty announced the deskilling plan was dead.
Videograb: Reel News
The proposal led to widespread protests by Unite electricians across the UK, including a February 2021 demonstration at the London HQ of EDF, the client on the Hinkley Point C job.
Unite confirmed it believed the proposed ESO role amounted to the deskilling of electricians and had not been discussed with the union. Site protests followed involving Unite organisers and rank and file activists.
Union protesters targeted other company contracts, on 26 May 2021 shutting down a major NG Bailey job at the Atomic Weapons Establishment (AWE) in Berkshire.
The companies were forced to listen. Unite said as a result of the protests and pressure from the union, Balfour Beatty and NG Bailey confirmed in a 7 June 2021 joint statement that the plan was dead.
"The disputed Electrical training standards developed by the ECITB (Engineering Construction Training Board) for HPC to create the electrical support operative have been permanently withdrawn by EDF after Unite raised concerns," the companies noted. It added the training standards "do not form part of our current or future development plans."
Unite national officer for construction Jerry Swain commented: "Unite's position was clear from the outset that it would oppose any efforts to weaken the skillset and training of electricians. Now that this matter has been put to bed it is imperative that everyone involved in the construction industry commits to work together. This must include how we improve and increase the training of workers to ensure that the sector is an attractive and financially rewarding option for workers."
He added: "Unite has during this period simply sought to protect our highly qualified members against any dilution of their skills."
Dave Smith of the Blacklist Support Group said: "After 15 weeks of rank and file direct action, two of the biggest contractors in the UK, Balfour Beatty and NG Bailey, have completely capitulated and 'permanently withdrawn' all their proposals to deskill the electrical contracting sector." He added: "The firm's new training course and proposed ESO grade at Hinkley have been totally taken off the table for the foreseeable future."
Smith, who addressed the AWE protest that shut the NG Bailey site at the AWE, concluded: "The significance of this dispute cannot be underestimated. Big business were attempting to drive through major changes that would have seen huge job losses and pay cuts. Yet despite the anti-union laws, rank and file sparks took the fight to the employers and won. They closed down the UK's Atomic Weapons Establishment, occupied company offices and blockaded major projects across the UK.
"This is what rank and file union organising looks like. All credit to the electricians who organised and participated in the actions. True working class heroes. There are big attacks looming across the entire UK economy in the near future. The rest of the union movement should learn lessons from this historic victory."
---
HPC recognises 'fundamental' safety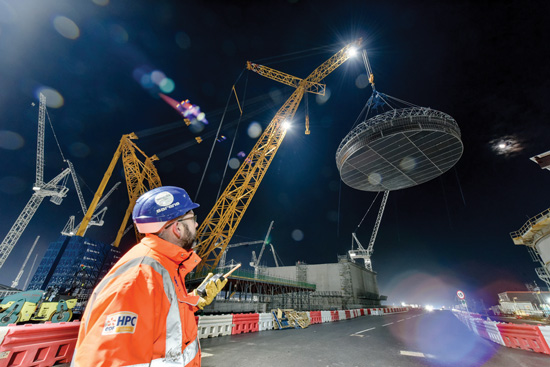 Unions and employers on Europe's biggest construction project have signed a declaration recognising occupational health and safety as a 'fundamental' right at work. Unite signed the joint declaration with EDF Nuclear New Build at the Hinkley Point C (HPC) site in Somerset.
Unite national health and safety adviser Rob Miguel and HPC construction director Rob Jordan signed the declaration, dated 27 May 2021, a move Unite said would now "demonstrate their joint commitment to create an international consensus that will encourage the application of good occupational health and safety standards and discourage countries and companies from seeking competitive advantage based on substandard conditions and practices."
Unite said the joint declaration with HPC is "very significant" as the UK's nuclear new build project is the biggest construction project in Europe. It could involve up to 8,500 on-site workers once Covid-19 restrictions are lifted.
The HPC declaration is the latest success in a campaign by the global construction union federation BWI to persuade the International Labour Organisation (ILO) to declare occupational health and safety a fundamental right of all workers.
BWI submitted a dossier of more than 300 joint trade union-employer declarations supporting the recognition of occupational health and safety as a fundamental right to the International Labour Conference in June. The declarations involved 102 BWI affiliates in 74 countries and covered an estimated 18 million workers, 310,000 employers and 480,000 workplaces.
Global union federation ITUC is spearheading the global campaign for recognition of occupational health and safety as an ILO fundamental right at work, a move which has garnered wide support from occupational safety, occupational medicine and employer groups.