Hazards, number 156, 2021
BARE FACED | Prime minister under pressure, as deadly virus choices exposed
A new vaccine-evading variant, a national infection crisis that won't die down. Hazards editor Rory O'Neill examines how Boris Johnson took too little action, too late and, through his personal disdain for the rules, may have fatally undermined the Covid fight.
It is not as though he was not warned. On 22 October 2021, the TUC and union leaders told Boris Johnson's government it risked "sleep-walking into a winter of chaos" unless it took decisive action to curb a rise in Covid cases. In a joint statement – signed by unions representing millions of public and customer-facing workers – the union leaders called on ministers to intervene urgently.
"With hundreds of Covid outbreaks at workplaces being reported to health authorities each week, events feel ominously reminiscent of last winter," noted the statement from the general secretaries of the TUC, UNISON, Unite, GMB, Usdaw, RMT, TSSA and ASLEF.
The statement was clear on the action needed to keep workers safe in frontline jobs in retail, transport, public services and across the economy. It said the government should "make the wearing of face coverings in shops and on public transport mandatory" and "remind employers of their legal obligation to manage the risks of Covid-19. That means carrying out and publishing thorough risk assessments and consulting with unions on necessary preventative action."
Unions also wanted "tough and decisive enforcement action. And regulators, including the Health and Safety Executive and local authorities, must be given the additional resources and funding they need to keep people safe at work."
They concluded: "Dithering and delaying will only make the situation worse."


Decisive delay
It was over a month before there was any action, a period during which the prime minister appeared conspicuously maskless in public settings, each time contradicting official statements that rules had been breached.
Í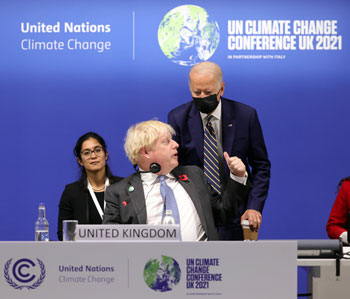 RIGHT WRONG  UK prime minister Boris Johnson attracted criticism in early November 2021 for a conspicuously bare-faced appearance alongside a masked President Biden at the Glasgow UN climate conference. Before November was out, he'd been spotted maskless and waiving the rules in a hospital, a theatre and on a train. more
Then on 27 November 2021, four days after Boris Johnson had made a maskless appearance at a London theatre and with the omicron variant already circulating, the prime minister announced limited new measures to combat the risks.
The move was prompted by fears the new variant may be both more contagious and more capable of evading vaccines. New rules would require close contacts of anyone testing positive for omicron to self-isolate for ten days, regardless of whether they were fully vaccinated.
Masks should again be worn in communal areas by secondary school pupils. And masks would once more be required in shops and on public transport, although there would be no new resources to enforce the rules and other public-facing sectors like hospitality were not to be covered. For all other workers, it would be business as usual. For many, Boris Johnson's response was both overdue and under-cooked. But the situation was about to change.
On 8 December 2021, the prime minister told a Downing Street news conference Plan B would be activated to limit the spread of the omicron variant. Almost five months and 17,000 more deaths after the government's 19 July 2021 'Freedom Day' ended Covid lockdown rules, many were reinstated.
SICK FAILURE  The impact on jobs of a progressive tightening of Covid rules in November and December 2021 in response to the new omicron variant has demonstrated the need for better sick pay to be available to all workers, the TUC has said. more
The new measures, which were met with fury by Tory backbenchers, include masks in most public places, Covid passes for some venues and work from home guidance. Boris Johnson said: "So first, we will reintroduce the guidance to work from home. Employers should use the rest of this week to discuss working arrangements with their employees."
He said from 13 December "you should work from home if you can. Go to work if you must but work from home if you can. And I know this will be hard for many people, but by reducing your contacts in the workplace you will help slow transmission."
In a departure from his previous vaccine dependency, the prime minister described the new rules as "proportionate and responsible" after the emergence of the omicron virus variant. He said early indications suggested the new variant "could lead to a big rise in hospitalisations and therefore sadly in deaths" – though a lot is still unknown. The NHS Covid Pass system will be required in many larger indoor venues.
Ministers have repeatedly said there are no plans for another lockdown in England. "It's not a lockdown, it's Plan B," the prime minister told the Downing Street news conference.


Sick or sacked?
There are fears Plan B is poorly thought through. Hospitality, for example, is still exempt from the new rules. And while the government offers nothing new on ventilation or to reactivate physical distancing or limit socialising, the virus will still have plenty of opportunities to mingle.
What is also a certainty is that working from home will result in many workers – cleaners, receptionists, conference and banqueting staff and hospitality and retail workers – without a job to do. There is neither a furlough safety net nor survivable levels of sick pay available to millions.
Calling for the immediate reinstatement of the furlough scheme, TUC general secretary Frances O'Grady said: "Furlough was the great success in the first response to the pandemic. The rise of the omicron variant shows why the UK needs a permanent short-time working scheme – ready to go when a new crisis hits."
The TUC leader added: "If we're serious about stopping omicron, ministers must fix our broken sick pay system, so every worker gets a decent amount to live off if they are sick or have to self-isolate. That's how we make sure people can follow the rules and stop the spread."
---
Is the party nearly over for the prime minister?

A procession of seasonal scandals, a perception he won't follow his own government's rules and a slow, limited and grudging response to a worrying new variant that was still enough to foment a backbench Tory party revolt. Boris Johnson's distain, dithering and dissembling is causing him unfamiliar discomfort.
A bare-faced appearance alongside a masked President Biden at Glasgow's UN climate summit on 2 November 2021, and while apparently dozing next to Sir David Attenborough, suggested Boris Johnson was making a point.
The impression was reinforced by a maskless appearance at Hexham General Hospital on 8 November. Then on 18 November photographs emerged of an again mask-free prime minister on a train in Manchester, while passengers around him wore masks. On 23 November the prime minister again defied official requests to wear a mask as he watched a performance of Macbeth at the Almeida theatre in north London.
On each occasion Downing St said the rules had been followed. On each occasion the relevant authorities said they had not.
On 9 December 2021 it was announced there would be an official investigation by the Cabinet Secretary Simon Case into potential Covid rule breaches at three government staff parties last year, in Downing Street on 27 November and 18 December 2020, and at the education department on 10 December. By 17 December, Case had quit the investigation as it was admitted he'd been present at at least one Christmas 2020 event in his office.
At the time of the 2020 parties people were banned from meeting indoors; on 27 November 2020 London was in Tier lockdown, with no indoor gatherings allowed. Again, the prime minister insisted repeatedly no breaches of the rules had occurred.
Increase sick pay so workers can isolate
A progressive tightening of Covid rules in November and December 2021 in response to the new omicron variant has demonstrated the need for better sick pay to be available to all workers, the TUC has said. The union body said the move was necessary so workers can afford to self-isolate.
Commenting on the UK government's announcement on 27 November 2021 of the first rule changes to address the new variant, TUC general secretary Frances O'Grady said: "We all want to stay safe and stop this variant from spreading. Failure to do so will have a huge impact on public health, our frontline services and the economy."
The measures announced by Boris Johnson required contacts of suspected omicron cases to self-isolate, regardless of their age or vaccination status.
The sick pay message was repeated by O'Grady in response to the prime minister's announcement on 8 December 2021 that the country would move to 'Plan B', with greater use of masks, a work from home recommendation and other measures.
"If we're serious about stopping omicron, ministers must fix our broken sick pay system, so every worker gets a decent amount to live off if they are sick or have to self-isolate. That's how we make sure people can follow the rules and stop the spread," she said.
A 6 December 2021 analysis from the TUC calculated 647,000 workers in hospitality, retail, and arts and entertainment – key sectors for Christmas festivity – do not qualify for statutory sick pay. The union body warned that with new tougher self-isolation rules, these workers are at risk of being left with no work and no income over the Christmas period.
The UK has the least generous statutory sick pay in Europe, worth just £96.35 per week. And it is only available to employees earning £120 per week or more. TUC research has found that this leaves around a third of workers – over 10 million people – with sick pay that is too low to meet basic living costs, or no sick pay at all.
The TUC leader reiterated: "Ministers must extend sick pay protection to every worker. And it should be worth at least the same as the Living Wage to make sure people can afford to isolate."
Sick pay that works: TUC report on the urgent need for reform, February 2021.
WHO Omicron variant update, 28 November 2021. WHO Technical Brief.

Back to main story • Top of the page