Hazards special report, Summer 2009
Red alert on the perils of green jobs
Recycling, clean energy, energy conservation – we've been told to expect a "green jobs" bonanza. But a spate of fatalities and poisonings in the sector show more work needs to be done to make the jobs as good for workers as they are for the environment, warns Hazards editor Rory O'Neill.
Green collared
Hazards 107, July-September 2009
Depending who you believe, the great green industries gold rush - which will see the creation of eco-villages, more sustainable energy production, and a dizzying array of other ambitious plans - could result in anything from 400,000 to well over 1 million new "green collar" jobs in the UK. But while politicians wax lyrical about the wonders of these new jobs, there is little attention being given to their quality.
Green firms caught red handed

Defective machine  A February 2009 inquest heard 23-year-old Steven Allen died when his head was crushed in a "scissor-grab" machine. The machine was defective, Steven had not been trained and no-one at the JB Bentley's waste recycling plant in Bradford had even read the manual. More

Fireball horror  Deeside Metal boss Robert Owen Roberts will face manslaughter charges in August 2009 relating to the fireball death of 37-year-old Mark Wright at the waste recycling yard. Mark died from 90 per cent burns and inhaling high temperature gases after he was told to crush in a baling machine 3,500 aerosol canisters containing inflammable propellant. More

Falling standards  Veolia Environmental Services Birmingham (VESB) was fined £100,000 and £22,000 costs in July 2009 after a worker fell, suffered serious injuries including broken ribs, a punctured lung and a hernia. More

Off guard  Metal recycling firm JBM International Ltd was fined £5,000 and costs of £2,614 in May 2009 after a 34-year-old employee working on a machine with inadequately guarded rotating blades suffered a severe hand injury. More

Deadly waste  East Dunbartonshire Council was fined £13,500 in April 2009, after waste  worker Stephen Welsh, 35, was killed by a reversing waste recycling lorry. More


Far from being our economic salvation, left to its own devices the green economy could deliver the same unhealthy mix of hire-and-fire, poison-and-pain jobs that remain a blight on the reputational landscape of the not-so-green economy. This isn't paranoia. It's already happening, and it is happening on a grand scale.
The recycling industry is the waste industry in green clothing. But while the waste wagons have new livery, the old habits have remained unchanged. Working in the waste sector is about the most dangerous job you can have on land. Health and Safety Executive (HSE) figures rank the waste and recycling industry 10 times more deadly than other jobs (Hazards 106).
What's green and makes you sick?
If the safety breaches don't get you, then the health hazards of your green job just might. Several workers at Electrical Waste Recycling Group Ltd's Huddersfield operation suffered mercury poisoning, one of them hospitalised as a result. After HSE required urine tests on the whole workforce at the lead and mercury contaminated work site, the firm was served with a prohibition notice. The notice, and several improvement notices, put an immediate stop on reclamation of fluorescent lamps and required the introduction of proper health surveillance. [More]
Wind turbine blademaker Vesta Blades UK Ltd was also the subject of a green collar by the health and safety police. It was fined £10,000 in June 2009 and ordered to pay £25,000 costs after 13 employees developed occupational dermatitis. The workers had suffered symptoms including severe itching and swellings and rashes on their arms, wrists, hands and face, caused by epoxy resins used in slapdash fashion in the production of the blades. [More]
Green jobs are certain to have all the hazards of old jobs, and could have unforeseen new hazards all of their own. Problems likely to be encountered in "green jobs" include exposure to lead and asbestos in the course of energy efficiency retrofitting and "weatherisation" in older building, and respiratory hazards from exposure to fibreglass and other materials in re-insulation projects. Workers could also face ergonomic hazards from the installation of large insulation panels and fall hazards in the installation of heavy energy-efficient windows and solar panels, or in the construction and maintenance of wind turbines.
And they will face one other traditional hazard; bad management.
Vesta Blades, a world leader in production of wind turbines, was supposed to provide the jobs of tomorrow. Instead, in July 2009 it provided the redundancy notices of today, for 600 plus staff at its Newport, Isle of Wight factory. In a distinctly ungreen move, it will instead ship production to the US and China – and if UK government plans to expand wind power are to be realised, it will have to import the blades right back again because Vesta was the only blade manufacturer based in the UK. [More]
Not just jobs
Unions in the US, where President Barack Obama has announced a multi-billion dollar green jobs plan, have started to address the issue of job quality as well as quantity.


Recycling hazards: Poisoned by mercury

We all like to do our bit for the environment, and recycling has that feel-good factor. But it left employees at Electrical Waste Recycling Group in Huddersfield feeling anything but good.

The firm recycles electrical equipment, including fluorescent light tubes containing mercury. It made such a botched job of it, one worker ended up in hospital and several others required ongoing medical surveillance. After undertaking urine tests on the entire 50-strong workforce, the Health and Safety Executive issued a prohibition notice stopping the mercury recovery operation. The notice, which was accompanied by a flurry of improvement notices, detailed breaches of the COSHH regulations and the Lead at Work Regulations.

Electrical Waste Recycling Group was instructed to undertake risk assessments for lead and mercury hazards, to institute health surveillance, to clean up the contaminated workplace and appoint a "competent person" to assist with the assessments. And the firm, together with company director Craig Thompson, was also instructed to appear at Bradford Crown Court on criminal safety charges.

Mercury exposure can cause chronic as well as acute health problems in exposed workers, and low doses can be dangerous. Symptoms can include memory loss, mood instability, headaches and visual and hearing problems. Long term effects can include damage to the immune system and kidneys. Exposures have also been linked to brain and other nervous system cancers. Old electrical equipment commonly contains lead, which can cause similar problems. Many older TV and computer monitors can contain several pounds of lead.

The UK's appetite for "green" lightbulbs is causing problems abroad. Large numbers of Chinese workers have been poisoned by mercury, which forms part of the compact fluorescent lightbulbs. A surge in foreign demand, set off by a European Union directive making these bulbs compulsory within three years, is already leading to the serious health problems predicted at the outset by occupational health campaigners. More
'High road or low road? Job quality in the new green economy', a February 2009 report commissioned by several US unions and environmental groups, found green jobs were often bad jobs, with low wages, exploitation of immigrant labour, poor health and safety standards and gross violations of employment rights.
Creating good green jobs is not something that will happen by accident. AFL-CIO, the US national union federation, has invested $1m in a Center for Green Jobs.
It says its mission is to influence public policy and assist unions to "implement real green jobs initiatives - initiatives that retain and create good union jobs, provide pathways to those jobs and assist with the design and implementation of training programmes to prepare incumbent workers as well as job seekers for these family-sustaining careers."
Whereas there is a long history of alliances between union and environmental groups in the US – organisations like the Blue Green Alliance, for example, as in blue collar links up with green groups – initiatives in the UK have tended to be ad hoc and impermanent.
Bad jobs are not a green solution for the UK. It will take a concerted union effort to make sure the green jobs agenda doesn't save the environment but cost lives.
Find out more: www.hazards.org/greenjobs
What's green and read about the USA?

Green jobs might not so far have coloured the UK Health and Safety Executive's thinking, but in the US the government health and safety research body NIOSH has a webpage looking at how existing jobs in the green economy and new jobs created by a government stimulus package can be made safe and healthy.

It is using an approach called "prevention through design", combining planning, organisation and engineering solutions. The system examines "how our knowledge about old and new hazards intersects with challenges created by new technologies and adaptations of work activities to perform green jobs."

What we know 
Creating energy efficient homes could expose construction workers to hazards such as formaldehyde and glassfibre in insulation, or asbestos and silica in building materials, and the familiar range of chemical, environmental and physical dangers, including manual handling risks and falls.

What we know we don't know
Electrical hazards may arise during installation and maintenance of solar energy panels and generators. Agricultural workers may face new hazards, equipment and chemicals linked to green practices.

What we don't know we know
Recycling workers face a range of hazards, including toxic chemicals and hazardous machinery and processes, problems and exposures already well-known in other more traditional jobs. Hazards and protections for building and maintaining wind energy turbines may be familiar or similar to existing construction trade hazards and safe practices.

What we don't know we don't know
There could be unintended consequences of changes in supply chain management practices, or unknown health risks with "green" chemicals, approaches and work methods.

NIOSH green jobs webpages


Green firms caught red handed
Grieving mum's safety warning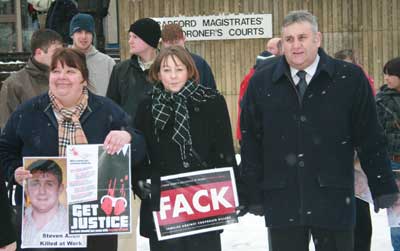 A Yorkshire mum has said her son would not have died at work if safe and suitable equipment had been available. Judith Allen was speaking in February 2009 after a Bradford jury returned a verdict of accidental death at the inquest for 23-year-old Steven Allen. He died when his head became trapped in a "scissor-grab" machine.
The incident at JB Bentley's waste recycling plant in Bradford occurred when he pulled a fallen wooden pallet from a Probst SG 80 machine, and its jaws clamped around his head. The three-day inquest heard evidence that workers on the site had not been trained to use the machine, had not read the manual for it and were using it to carry prohibited materials. It was also revealed that a chain restricting how far the machine jaws could close was broken and none of the workers on the site had realised its significance.
Steven's mum, Judith, a member of Families Against Corporate Killers (FACK), said: "Accidental death does not cover what happened to Steven. I am glad we were able to ask the questions we wanted to and the serious failings in the system have been shown. Steven loved working for JB Bentley and would have done anything for them." She added: "I would like to see more care shown towards workers and the correct health and safety and training. It is my opinion that if the correct equipment was used and they knew what they were doing this would not have happened."
Boss to face scrapyard death charges
A scrapyard general manager is to face a manslaughter charge over the death of an employee four years ago. Robert Owen Roberts is to appear at Flintshire Magistrates Court in Mold on 25 August to face charges of manslaughter and a breach of the Health and Safety at Work Act 1974. The Deeside Metal boss was responsible for the day to day running of the waste recycling yard.
On 12 April 2005, 37-year-old Mark Wright died from 90 per cent burns and inhaling high temperature gases after being told to crush 3,500 aerosol canisters in a baling machine. Crown Prosecution Service (CPS) spokesperson Tim McAtackney said: "The Crown Prosecution Service has authorised charges of gross negligence manslaughter and breaching Section 7 of the Health and Safety at Work Act 1974 against Robert Roberts in relation to the death of Mark Wright in April 2005." He added: "Following a recent review and the receipt of further evidence in May, the CPS lawyer decided that there is sufficient evidence for a realistic prospect of a conviction and it is in the public interest to charge Mr Roberts."
During the inquest into Mark's death in February 2009, it was revealed the canisters could still have contained at least 19.6kg of propellant. His parents, Dorothy and Doug Wright, are founder members of the campaign group Families Against Corporate Killers (FACK).

Back to main story
Environmental firm fined over fall
A West Midlands environmental services company has been fined £100,000 for a health and safety breach that led to a worker being seriously injured in a fall. Veolia Environmental Services Birmingham (VESB) was also ordered to pay £22,000 in costs when it appeared before Birmingham Crown Court in July 2009. Its contractor, Hansen Transmissions (HTL) of Huddersfield, was fined £70,000 and ordered to pay £22,000 costs after also pleading guilty to a breach of the Health and Safety at Work Act.
The charges related to an incident on 5 July 2007 when a Hansen employee was replacing a gearbox within a condenser unit at VESB's premises in Tyseley when he fell from a height of more than 10 metres, landing on a pallet of bundled narrow bore copper pipes. As a result of the fall he suffered serious injuries including broken ribs, a punctured lung and a hernia.
Speaking after the court hearing, Health and Safety Executive (HSE) investigating inspector Paul Smith said: "This incident resulted in serious injuries which could so easily have been fatal. The man involved is lucky to be alive." He added: "The system used by HTL was plainly unsafe – men, working 10m and more up in the air, were manoeuvring bulky plant using inappropriate methods, on and above an inadequate working platform, with markedly inadequate protection from the drop beneath. Any informed check upon this system of work should have identified its shortcomings and put a stop to it. VESB failed to properly monitor or manage the work being carried out by HTL."
Rotating blades mince hand
A metal recycling firm has been fined after an employee working on a machine with inadequately guarded rotating blades suffered a severe hand injury. The Health and Safety Executive (HSE) prosecuted JBM International Ltd for its failure to make a suitable risk assessment of the dangers posed by the rotary valves of the dust extraction unit. JBM was fined £5,000 and costs of £2,614 by Newcastle-under-Lyme Magistrates' Court in May 2009 after pleading guilty to two safety offences at its Kingsilver Refinery in Hixon, Staffordshire.
The injured 34-year-old employee was investigating a possible blockage to the dust extraction unit by removing the collection bag and reaching up with his left hand to the exit opening of the extraction unit's rotary valve when his hand was severely damaged by the blades.
Speaking after the case, HSE investigating inspector Ian Williamson, said: "Being able to easily access moving parts of the machine represented an obvious danger which meant that it was reasonably foreseeable that an injury could occur whilst reaching into the opening. The machine had been in operation for 10-15 years yet it had evidently not been subjected to a suitable risk assessment because it had not been engineered in any way to protect operatives." He added: "It is important for companies to ensure that they have fully considered all the risks their employees may face when using any equipment and the injuries could have been much worse."
Council fined after waste collector dies
A Scottish council has been fined after a waste collector was killed at work. Stephen Welsh, 35, an East Dunbartonshire Council employee, who was struck and fatally injured by a reversing waste recycling lorry.
East Dunbartonshire Council was fined £13,500 at Glasgow Sheriff Court in April 2009 after pleading guilty to a breach of safety law. Mr Welsh, who was working as a waste recycling collector, was run over by the council's waste recycling lorry during a reversing manoeuvre. The incident happened on 23 January 2007 in Torrance.
HSE inspector Jean Edgar commented after the case: "Employers of waste collectors should ensure that their kerbside workers are fully trained to safely assist their drivers to reverse and avoid collision with pedestrians. A safe system of work should be drawn up setting out how communication and control between kerbside collectors and the driver can be reliably achieved." The inspector added: "I cannot stress enough, how challenging a work environment the streets of our towns and cities are for this important group of workers and how a simple mistake can have tragic consequences."
Wind firm blows thousands on dermatitis
A wind turbine firm has been fined £10,000 after workers developed occupational dermatitis. Thirteen workers at the Newport plant of blademaker Vestas Blades UK Ltd developed the condition caused by exposure to epoxy resins. Isle of Wight Magistrates' Court heard the company had also spent £400,000 on safety measure to prevent a reoccurrence and substantial legal bills and costs, associated with the two-and-a-half year Health and Safety Executive (HSE) investigation.
After the June 2009 case, HSE emphasised the importance of preventing exposure to hazardous substances after the 13 employees suffered dermatitis caused by exposure to epoxy resin between 2005 and 2007. HSE inspector Roger Upfold said: "Symptoms included severe itching and swellings and rashes on their arms, wrists, hands and face, with the effects sometimes lasting for days. As a result some had to stop working for Vestas Blades UK Ltd."
The resins formed part of a gel coating, which was pumped on to a mould to form the outer surface of the blade. A team of workers spread the gel evenly with rollers before the liquid was able to cure. But the operators were put at risk as the substance often splashed and there were other routine opportunities for skin exposure. HSE inspectors visited the factory in February 2007 and found that workers had not been provided with any face protection other than safety glasses. They also discovered that the firm was not monitoring its staff to ensure that they were wearing the safety equipment that had been issued.
The company was served with an improvement notice in July 2007 for failing to put in place measures to sufficiently protect employees from dangerous substances. The firm was fined £5,000 for each of two breaches of the Control of Substances Hazardous to Health Regulations 2007 (COSHH) and ordered to pay £25,000 costs.
In July 2009, workers occupied the plant in a trade union campaign to keep the factory open. After an August 2009 court ruling the last remaining workers were evicted from the Vestas factory.
'Green' lightbulbs poison workers
Workers in China could pay a high price for the production of "green" lightbulbs in cost-cutting factories. Large numbers of Chinese workers have been poisoned by mercury, which forms part of the compact fluorescent lightbulbs. A surge in foreign demand, set off by a European Union directive making these bulbs compulsory within three years, is already leading to the serious health problems predicted at the outset by occupational health campaigners.
The Sunday Times reported on 3 May 20009 that doctors, regulators, lawyers and courts in China - which supplies two-thirds of the compact fluorescent bulbs sold in Britain - are increasingly alert to the potential impacts on public health of an industry that promotes itself as a friend of the earth but depends on highly toxic mercury. The risks are illustrated by guidance from the British government, which says that if a compact fluorescent lightbulb is broken in the home, the room should be cleared for 15 minutes because of the danger of inhaling mercury vapour.
A specialist medical journal, published by China's health ministry, describes a compact fluorescent lightbulb factory in Jinzhou, in central China, where 121 out of 123 employees had excessive mercury levels. One man's level was 150 times the accepted standard. The same journal identified a compact fluorescent lightbulb factory in Anyang, eastern China, where 35 per cent of workers suffered mercury poisoning. It also reported a survey of 18 lightbulb factories near Shanghai, which found that exposure levels to mercury were higher for workers making the new compact fluorescent lightbulbs than for other lights containing the metal.
Main photo Greenpeace presents a practical proposal for sustainable energy for Brazil. In the 'Energy Revolution' report Greenpeace concludes that by harnessing renewable energy and implementing energy efficiency measures enough electricity can be generated to guarantee the economic growth of the country until 2050. At the launch of the 2007 report, Greenpeace installed 40 photovoltaic solar panels to supply 30 per cent to 60 per cent of the daily electricity demand in the Greenpeace office in São Paulo. The photovoltaic solar technology allows electricity generation from panels that catch the light of the sun. The panels are connected to the national energy grid, which is not normally allowed in Brazil. Only about 20 systems of this type exist in Brazil as they require a special licence.
© Greenpeace / Rodrigo Baléia