SHARE it on your social networks:

TWEET the message using the dedicated hashtag
DOWNLOAD, print off and pin-up-at-work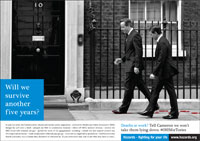 PDF download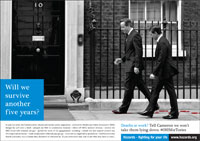 JPG download
Contact Hazards if you would like to make larger sized prints.
UPLOAD it to your website, blog or Facebook page
Click here Embed or copy and paste this text:
<a class="embedly-card" href="http://www.hazards.org/gallery/willwesurvive.htm">Our graphic answer to deadly work - Hazards magazine</a> <script async src="//cdn.embedly.com/widgets/platform.js" charset="UTF-8"></script>
Use in your publication
Contact us for permission for use in publications.
Will we survive
another five years?
A pin-up-at-work poster from Hazards
Want to use it? click here
Graphic design Ned Jolliffe
Art direction Rory O'Neill
Hazards webpages
Cover art • Posters • Articles