| | |
| --- | --- |
| | Investigations, prosecutions, enforcement down – and deaths up |
HSE's desperately poor safety enforcement record just took a turn for the worse. Now 9 out of 10 major injuries don't result in an investigation, HSE inspections have hit a new low and the last two years have seen the worst enforcement performance on record. Hazards editor Rory O'Neill says only dangerous employers now have reason to feel safe.
Just who does HSE protect?
Hazards 100 October-December 2007

Health and Safety Executive (HSE) inspectors undertook 13,221 fewer inspections last year, a drop of over 24 per cent. Figures obtained by Hazards show HSE's main inspection section, the Field Operations Division (FOD), recorded just 41,496 inspections on its COIN database in 2006/07, down from 54,717 in 2005/06.
HARDLY SEEN ENFORCING

FATALITIES UP 241 worker deaths in 2006/07 compared to 217 in 2005/06, an 11 per cent increase.

FATALITY RATE UP 0.8 workers killed per 100,000 in 2006/07 compared to 0.72 per 100,000 in 2005/06, a 10 per cent increase.

INSPECTIONS DOWN 41,496 HSE inspections in 2006/07 compared to 54,717 in 2005/06, a 24 per cent decrease.

INSPECTION RATE DOWN HSE enforced workplaces in 2006/07 could expect an inspection on average once every 14.5 years, compared to once ever 7 years in 2001/02.

INVESTIGATIONS DOWN the proportion of major injuries investigated by HSE fell to 11 per cent in 2005/06 from 13 per cent in 2004/05.

PROSECUTIONS REMAIN LOW 1,056 offences prosecuted by HSE in 2005/06 compared to 1,320 in 2004/05, a fall of 20 per cent. Convictions dropped by 10 per cent. Provisional figures for 2006/07 show a minor improvement in prosecutions and convictions, but the last two years remain the worst on record.

NOTICES REMAIN LOW 6,593 enforcement notices issued by HSE in 2005/06 compared to 8,471 in 2004/05, a fall of over 22 per cent. Prohibition notices were down by 18 per cent and improvement notices by 24 per cent. The provisional total notices figure rose to 8,071 in 2006/07, but the last two years remain the worst on record.

www.hse.gov.uk/statistics

Although a change of recording methods mean the figures are not directly comparable with those for earlier years (Hazards 95), they do show inspections have now fallen dramatically year-on-year since 2002/03 and have reached a new low. While the number of inspections has crashed over the last five years, the number of workplaces covered by HSE has increased by 20 per cent, meaning workplace are only visited about once every 14.5 years, down from once very seven years in 2001/02.
A series of Freedom of Information Act requests from Hazards revealed other evidence of a massive deterioration in the safety oversight provided by HSE.
Its 'decision reporting forms' reveal the number of incidents so serious investigation should follow automatically but where no investigation has occurred because of "inadequate resources" has increased from 207 in 2005/05, to 255 in 2005/06 and to 307 in 2006/07 (Hazards 99).
The proportion of reported major injuries that were investigated by HSE has also dropped, down from 13 per cent in 2004/05 to 11 per cent in 2005/06.
Enforcement activity has also plummeted. Final figures for 2005/06 published on the HSE website on 1 November 2007 show HSE prosecuted 1,056 offences that year, down from 1,320 in 2004/05, a fall of 20 per cent. Convictions secured dropped to 840, down from 1,025 in 2004/05, a drop of over 18 per cent. The provisional HSE prosecutions figure for 2006/07 is 1,141, a minor improvement, and the provisional convictions figure rose from 840 to 848. However, the two most recent years represent the worst HSE enforcement performance on record.

Click on image to enlarge Source: HSE

The total number of enforcement notices issued by HSE fell to 6,593 in 2005/06 from 8,471 in 2004/05, a fall of over 22 per cent. Prohibition notices issued by HSE fell to 2,668 in 2005/06 compared to 3,285 in 2004/05, down almost 18 per cent. Improvement notices fell to 3,952 from 5,186, down almost 24 per cent. After a major effort to reverse the fall in notices, the number issued by HSE in 2006/07 rose to 8,071, but the last two years remain the worst on record.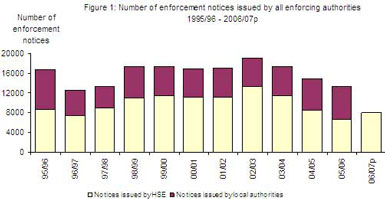 Click on image to enlarge Source: HSE
There are serious concerns the enforcement crisis at HSE will worsen, as further funding cuts bite. HSE has already lost over 250 jobs since April 2006 and faces a further 100 job losses in the second half of the financial year. HSE is grappling with the news that the anticipated 15 per cent budget cut by 2011 to meet Treasury efficiency targets may in fact be larger still.
Chancellor Alistair Darling's announcement that HSE's parent department DWP would take a 5.6 per cent hit year on year from 2008-2010 was 12 per cent more than the 5 per cent cut it had been led to believe was on the cards.
Since 2002, HSE has lost over 1,000 posts as a result of government spending cuts; HSE union Prospect says the organisation now employs fewer than 3,250 staff, down from over 4,000 when Labour took office.
According to a September 2007 TUC briefing, workplace safety should be a high law enforcement priority, noting "18,000 violent crimes a year require hospital treatment whereas there are 39,000 workplace major injuries – things like amputations, fractures to limbs, serious burns, or injuries requiring at least 24 hours in hospital."

PRESSURE POINTS Campaigners from Families Against Corporate Killers (FACK), Battersea Crane Disaster Action Group and the Construction Safety Campaign protested outside the 17 September construction safety summit in London. Questions are being asked about the construction industry's ability to implement the summit's recommendations. Photo: Mick Holder
But as HSE struggled this year to cope with a crippling funding crisis it was pushed into areas of work with no relevance to workers' health – including taking the lead on and footing the £100,000 bill for the investigation into this summer's foot and mouth outbreak linked to the Pirbright laboratory near Guildford. Foot and mouth is a non-fatal disease of animals presenting no risk at all to humans.
Mike Macdonald, negotiations officer with HSE inspectors' union Prospect, said cash-strapped watchdog "cannot meet its public expectations to advise, inspect and enforce workplace health and safety." He added: "Better funding for the HSE would be good for workers concerned about their safety, employers seeking advice and the taxpayer who meets the costs of higher benefit and insurance because of rising accident rates."
Hilda Palmer, a spokesperson for the campaign group Families Against Corporate Killers (FACK) commented: "The massive, unacceptable decline in already inadequate policing of health and safety means the workplace is an enforcement-free zone and deaths and injuries will continue to rise.
"Employers cannot be trusted to protect our health and safety without a credible threat that they will be caught and punished, preferably before someone is hurt or killed. FACK will be making it clear to the minister Peter Hain that families of those killed by work will not tolerate this failure of law enforcement and we expect urgent action to police the workplace."

************************************
Hain vows to stop site deaths surge

An action plan to cut workplace deaths and improve health and safety standards has been agreed by representatives of the construction industry and trade unions.
Secretary of state for work and pensions Peter Hain convened the 17 September 2007 safety summit to address health and safety practices in the housing and refurbishment sector following a 28 per cent increase in construction deaths (Hazards 99). The event was attended by government ministers, the Health and Safety Executive, trade unions, industry bodies, suppliers, contractors and health and safety campaigners.
Peter Hain said: "I am resolutely committed to halting the recent surge in construction deaths." Commenting on the summit's outcome, he said it "has agreed a clear framework for action to cut this appalling number of deaths and reverse this deadly trend." The minister added: "The construction industry must take ownership and work side-by-side with trade unions and government to take action and drive down these unacceptable deaths."
he forum agreed measures including encouraging worker involvement, ensuring all projects include trades union and worker representatives and to take steps to drive out the informal economy in the sector.
Departing from the agenda, Peter Hain invited Tony O'Brien, secretary of the Construction Safety Campaign, to address the meeting. Mr O'Brien told attendees site employers commonly ignore the positive impact of union safety reps on site safety.
Summarising his contribution after the meeting, he told Hazards: "No protection is given to safety reps. Safety reps should be praised and used as an example to encourage more companies to support them and work with them." He added: "The government has shifted the onus on companies to be self regulatory with the onus being on risk assessment. Well, this is not working."
Members of the Battersea Crane Disaster Action Group (BCDAG) and Families Against Corporate Killers (FACK) joined protesters from the Construction Safety Campaign outside the talks. The number of fatalities in construction in 2006/07 was 77 - the highest total for five years.
Mr Hain's new construction safety drive has already hit difficulties however. The construction group given responsibility to lead a site safety drive after fatalities took a dramatic upturn has admitted it cannot tackle the problem until it gets its own house in order.
The health and safety task group of the construction industry's Strategic Forum, composed of the major players in the industry, to come up with ideas to improve safety practices in the sector by the end of 2007 has so far done nothing.
The safety task group's October meeting did not discuss any of the proposals mentioned at the health and safety summit. Instead, it was devoted to sorting out its own internal politics after its previous meeting in May was cancelled due to a lack of interest. The Strategic Forum safety task group was originally set up to ensure promises made at a February 2004 construction health and safety summit, convened by then deputy prime minister John Prescott, were followed through.