Hazards issue 114, April-June 2011
We know how to make work safe, so why do workers still die?
A hundred years ago, 146 young garment workers died in a garment sweatshop in the heart of New York, spurring new laws and an upsurge in union organising. Hazards editor Rory O'Neill looks at how far the world of work has come since then.
A world of trouble
Hazards issue 114, April-June 2011
Dozens of ordinary workers die in a fire, making the shirts ordinary Americans will wear on their backs. Doors were locked. Some succumbed to smoke. Others jumped several storeys to their deaths in a desperate, inevitably fatal, bid to evade the flames. But this wasn't New York, 25 March 1911. This was Bangladesh, 14 December 2010.
Hameem Group, which owns the That's It Sportwear factory outside Dhaka where 28 workers died, supplies household names including Gap, Wal-Mart, H&M, JC Penney, Kohl's, Sears and Target. In a shrinking consumer world, production and exploitation knows no borders. Who gets consumed by the hazards of work may be the result of conditions and decisions a world away.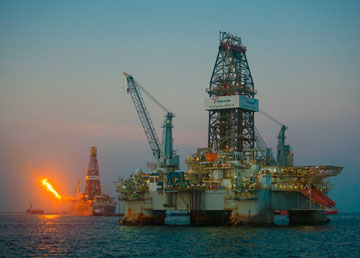 BONUS BALLS-UP  A year after the Deepwater Horizon rig killed 11, embarrassed Transocean execs handed back enormous safety bonuses and BP was under a formal safety notice for a string of criminal failings on its North Sea rigs. Campaigners say it takes laws, enforcement and active unions to force a responsible corporate behaviour [more].
In 2010, British oil multinational BP, operating in US waters, saw its reputation torn to shreds as a result of its thirst for deep sea oil dollars. Eleven workers died and the Gulf of Mexico was coated in a toxic smear. In 1988, US oil multinational Occidental, operating in British waters, was the villain behind the Piper Alpha rig explosion. While 167 workers died, Occidental escaped unscathed.
Poor regulation and a low price on human lives mean workers die. It might be the immigrants working for US companies that bake to death in California's pesticide soaked fields, or US workers having their fates determined in distant, foreign boardrooms.
Swedish furniture multinational IKEA is packaged as a model of employment and environmental probity. On its European doorstep, maybe. But factories in China, safely out of sight, are the biggest producers of its furniture. And if conditions are anything like those at IKEA's Swedwood plant in Danville, Virginia, there's real reason for concern.


FIRED UP 'Don't Mourn, Organize', published by New York-based union safety group NYCOSH on the 25 March 2011 centenary of the Triangle shirtwaist fire, contains 34 essays on what the fire has to teach us today.
When the firm was found in 2010 to be abusing safety laws, by both the union IAM and the safety watchdog Virginia OSHA, it responded quickly. IKEA hired renowned anti-union law firm Jackson Lewis to undermine IAM. The union-buster's secret training manuals highlight workforce concerns over safety as a red flag that workers may be primed for union organisation and requiring a major dose of union-bashing.
Joel Shufro, executive director of the New York Committee for Occupational Safety and Health (NYCOSH), commenting on the 100th anniversary of the Triangle fire, said: "Outrage over the conditions that led to this tragedy resulted in a fundamental change in the way in which people viewed government."
The changes included fire prevention legislation, factory inspection laws and the emergence of the International Ladies' Garment Workers' Union. "For the first time, it became legitimate for government to require employers to provide workers with safe and healthful working conditions, to prohibit child labour, and to ensure that employers comply with fire codes and provide sufficient ventilation," said Shufro.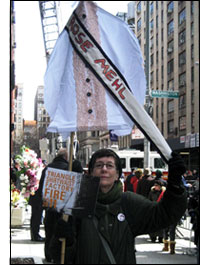 In Manhattan 100 years ago, after the horrific and very public deaths of 146 garment workers, most of them Italian and Jewish immigrants and most young women and girls, it was a union that emerged to give workers a collective voice and the strength to challenge desperate abuses. It is the same story in Danville.
You think your jobs are undercut and your conditions undermined by poor pay and safety standards in sweatshops abroad? They are. But all our working fates are intertwined. The only way to challenge effectively workplace hazards at home is to unite and fight for better conditions everywhere.
Don't be green on tomorrow's dangers
In the 21st century we have almost all the hazards of yesterday's industrial age, supplemented by a whole new batch of problems.
Prominent on the new risks list is nanotechnology, an industry a very polished public relations machine. It will, we are told, save our lives, clean our windows and clear up our toxic waste.
The Project on Emerging Nanotechnologies even has a whole GreenNano theme, that "aims to advance development of clean technologies using nanotechnology, to minimise potential environmental and human health risks associated with the manufacture and use of nanotechnology products, and to encourage replacement of existing products with new nano products that are more environmentally friendly throughout their lifecycle."
There's one little hiccup. We don't know the nature of the environmental and human health risks, but we are exposing the population and the planet to novel, virtually unregulated and a largely untested dizzying array of products anyway. 
The latest signal everything in nanoworld may not be entirely healthy came this year from the Health and Safety Executive (HSE). Carbon nanotubes (CNT) may cause serious diseases, but lack of adequate information means safety datasheets are likely to be of little or no use, the UK safety watchdog suggests.  
'Risk management of carbon nanotubes' notes: "The toxicity of CNTs has not yet been fully investigated. However it is clear that Safety Data Sheets for CNTs that are based on conventional graphite or graphene will NOT provide suitable adequate information to assess the risk from CNTs." The guide advises: "Since there is uncertainty about the risks of being exposed to CNTs, the regulatory and safe response is to take a precautionary approach."
According to HSE: "Emerging data indicates that when CNTs are breathed in they can cause lung inflammation and fibrosis... It is also not clear if inhaled CNT have a role in the development of adverse health effects at other sites in the body. There is an increasing body of evidence to suggest that CNTs and other nanomaterials with a long, thin and straight shape (referred to as high aspect ratio nanomaterials or HARN) may be particularly hazardous. However, there are insufficient data to confirm the health consequences of long-term repeated exposure."
The HSE guide adds there is "some evidence" CNTs "may be able to provoke inflammatory reactions in the skin." It concludes: "In view of the evidence for lung damage and lack of information on the effects of long-term repeated exposure a high level of control is warranted for CNTs."
Simon Pickvance, an occupational health specialist based at Sheffield University, criticised HSE's "passivity."
He said: "HSE should take a positive role as the guarantor of the quality of safety datasheets. If the information on datasheets cannot be relied on, then they are more dangerous than informative. Neither HSE nor chemical firms should be operating a cross-your-fingers-and-hope version of risk assessment." 
It's a line supported by unions across Europe. On 1 December 2010, the executive committee of the European Trade Union Confederation (ETUC) adopted a second resolution on 'Nanosciences and Nanotechnologies'.  It says the intention of the resolution is to secure protection of workers potentially exposed to nanomaterials, and calls for adherence to the "no data, no market" principle.
New HSE webpages on nanotechnology provide some support for this approach, with a boldface section on its 'risk management basics' noting: "Where nanomaterials have an uncertain or not clearly defined toxicology and unless, or until, sound evidence is available on the hazards from inhalation, ingestion, or absorption a precautionary approach should be taken to the risk management."
OFFSHORE AND OUT OF ORDER
Transocean 'contributed' to Gulf disaster
A lax safety culture and poorly working kit aboard the Deepwater Horizon oil rig contributed to last year's explosion, the US Coast Guard has concluded. In an April 2011 report, released a year after the incident that killed 11 rig workers and caused a massive spill, the agency criticised the practices and training of rig owner Transocean. It said equipment was poorly maintained and alarms and automatic shutdown systems did not work properly.
The report noted: "Deepwater Horizon and its owner, Transocean, had serious safety management system failures and a poor safety culture."
Three weeks earlier, Transocean's four top executives announced they would give away to victims of the disaster over $250,000 in bonuses awarded for the company's "exemplary" safety record. The decision came days after the existence of the payouts was unearthed deep in a legally-required submission to the US Securities and Exchange Commission. The safety bonuses, which triggering intense criticism, covered a period including the April 2010 explosion.

BP execs may face jail
Managers of UK oil multinational BP could face manslaughter charges when prosecutors in the United States finally conclude their criminal investigation into the April 2010 Deepwater Horizon explosion. The possibility that these and other charges may now be on the table at the US Justice Department, put new pressure on the shares of the energy giant.
Involuntary manslaughter, if proven, could carry sentences of up to 10 years in prison. They also stressed that no decisions had been made and the criminal inquiry is still some way off being wrapped up. It is believed prosecutors are also considering opening a perjury investigation into testimony given by BP executives, including former CEO Tony Hayward, during congressional hearings.
BP is also facing flak in the UK, where the Health and Safety Executive (HSE) has warned the company it is failing to perform enough safety checks on operations in the North Sea, putting the safety of rig workers at risk. A November 2010 improvement notice issued by the watchdog gave BP until 31 May 2011 to remedy the criminal safety breaches identified.
Hazards website www.hazards.org/oil