Hazards issue 116, October-December 2011
HSE says talk to the machine – we say 'no thanks'
Not only is the cash-starved, hands-tied Health and Safety Executive (HSE) disappearing, it is increasingly disappearing from view. It has blitzed contact telephone numbers and email addresses from the
HSE website
. And most injury reporting and official safety advice has now been consigned to the web too.
Where's that watchdog?
Hazards issue 116, October-December 2011

The shrivelled official workplace safety enforcer is not exactly clamouring to drum up business. The Health and Safety Executive (HSE) has even banished the word "contact" from its website. Instead, the rather less inviting term "notify" has appeared, behind which the committed can worm out details of the new slow-mo alternative to an HSE contact telephone number. HSE has lost its voice – instead you are given a choice of fax numbers and postal addresses for a cut-down, cutback list of 'local' offices.
WHO YOU GONNA CALL? We think when a safety criminal puts your life and livelihood at risk, you should be able to talk directly to a Health and Safety Executive (HSE) inspector. John Bamford has compiled a list of the off-the-grid local HSE telephone numbers. See the full list here.
Things getting scary on that construction site? Then pull out your fax machine and bang in a complaint. That tractor's power take-off nearly took off your leg? Write a letter. "A complaints officer will then assess your complaint" and the lucky ones that get a "serious" red or "significant" amber risk rating might even get a call back, says HSE. "We may ask the employer to investigate your complaint or we may look into it ourselves." An HSE inspector may not ever get to find out that you called – but your employer might.
According to John Bamford of Greater Manchester Hazards Centre: "It's not easy to contact the HSE, and it's not easy to contact an inspector. HSE management have acted in ways that make it appear that the health and safety police have gone into hiding. They have certainly made it more difficult than it need be, but it's not been easy for some time."
It took Bamford, an accomplished researcher, half-a-day to track down telephone numbers for HSE's dwindling and far-flung collection of offices (below). "If you call the regional switchboard, you will not be put through to an inspector unless you know their name - I tried that one," he says. If you are in Newcastle, 'local' means Leeds. Callers from Wales will be re-routed to Bristol.
"Under the old system, you could often persuade the switchboard operator to give you the name of an inspector, or put you through to a principal inspector, the line manager - I've done that one in the past as well. They knew the names and responsibilities of the inspectors in their offices. Regionalisation means that local knowledge has been lost."


TANGLED WEB  John Bamford (centre) was sent all around the houses searching for HSE's secretive contact telephone numbers. The safety watchdog is quickly becoming a virtual enforcement agency, accessible only via the internet.

HSE would prefer to keep it faceless, and wants to restrict your access to just an online complaints form. But if you can push your work to one side and if you have a computer to hand and if you can escape the gaze of your manager for a mo and if your web access at work isn't blocked or your usage monitored, you might have the time to discover there is an if-all-else-fails office hours only phone number.  Several tiers into the HSE website there's this: "If you are not able to use this online form then you can report your complaint by phoning our Complaints and Advisory Team on 0300 0031647 in office hours." That will get you through to a complaints officer, Bamford says, not an HSE inspector.
Even if you are injured at work, it is unlikely HSE will be willing to talk to you. Only reports of fatal and major injuries and incidents can now make use of HSE's office hours only Incident Contact Centre number, 0845 300 99 23. All other work-related injuries and incidents reportable under the RIDDOR regulations have to use one of seven online forms available on HSE's website.
Before the latest round of cuts, HSE only investigated 1-in-19 reported major injuries (Hazards 114). Now it doesn't even want to hear about them, and planned changes to the reporting regulations supported by HSE's board mean it won't be interested in an online report unless you've been off work injured for more than seven days.
HSE's advisory function is following inspection into the "yeah, whatever" service dustbin. On 30 September 2011, HSE pulled the plug on Infoline, its telephone based health and safety advice system.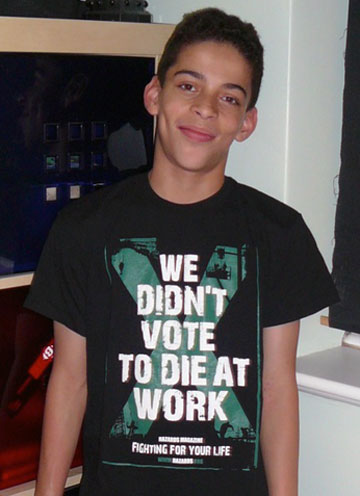 DID HSE DO THE BUSINESS FOR YOU?

Hazards wants to hear if you've been let down by HSE. Could you get hold of an inspector? Was the official advice and support you needed available when you needed it? Was a problem properly resolved? Did your situation get better or worse after you tried to get help from HSE? When you phoned, did they try to fob you off? Did they succeed?

Hazards is also concerned that HSE – unlike Crimestoppers, Dob-a-dealer, benefit cheat hotlines and other crime-busting units – doesn't accept or follow up even serious anonymous complaints. If you have tried and failed and want to make a complaint without giving your details, contact Hazards in confidence and we'll contact HSE for you.

Hazards hotline: 0114 201 4265. Email: sub@hazards.org


Commenting on HSE's transition into an increasingly virtual watchdog – a move driven by government–imposed funding cuts - director of strategy Trevor Carlile said: "The most important thing is that there will still be somebody at the end of the phone to assist those who are reporting a traumatic event that has resulted in a death or major injury."
He also defended the move to an online only advice service, noting: "HSE's website is already overwhelmingly the most popular option for accessing health and safety information. We're confident that our web services can be efficient and effective at a fraction of the cost per contact compared with telephone services. We'll continue to make improvements to make the website as intuitive and easy-to-use as possible."
But critics say the move could amplify a 'digital divide' on health and safety. TUC's 'Unionlearn' project says there are over 8.6 million people in the UK who have never been online, and figures released in August 2010 by the government's Office of National Statistics revealed 45 per cent of adults without any formal qualifications had never accessed the internet. As a rule of thumb, workplace risks go up as qualifications go down.
Bamford says union reps should make sure they are acquainted with the HSE inspectors covering their workplace "otherwise you will be sent all around the houses as I have been. Avoid all this by ensuring you are in touch with your local inspector – contact them, get their card with a direct line and email address, build a working relationship so they know you don't raise matters with them unless you really need to. It really does work."
Who you gonna call?
We think when a safety criminal puts your life and livelihood at risk, you should be able to talk directly to a Health and Safety Executive (HSE) inspector. Here's a list of the off-the-grid local HSE telephone numbers.
Yorkshire and North East  Covers Cleveland, Durham, North Yorkshire, Northumberland, West Yorkshire, Tyne and Wear, Humberside and South Yorkshire.  All calls go to a central switchboard at Leeds. Tel No: 0113 283 4200
Wales and South West   Covers Wales, Cornwall, Devon, Somerset, North Somerset, Bath and North East Somerset, Gloucestershire, South Gloucestershire, Bristol, Dorset, Swindon and Wiltshire. Tel: 029 2026 3000
Scotland   Covers all the Scottish unitary authorities and island councils. All calls go to a central switchboard in Edinburgh. Tel: 0131 247 2000
North West  Covers Cheshire, Cumbria, Greater Manchester, Lancashire and Merseyside.  Tel: 0151 951 4000. Workers in Cumbria can also try 01228 634100.
Midlands  Covers the West Midlands, Leicestershire, Northamptonshire, Warwickshire, Derbyshire, Lincolnshire, Nottinghamshire, Hereford and Worcester. Tel: 0121 607 6200. Workers in Leicestershire, Northampton, Rutland, Warwickshire can also try 01604 738 300. Workers in Nottinghamshire, Derbyshire, Lincolnshire (except north Lincolnshire, covered by the Sheffield office) can also try 0115 971 2800. Workers in Staffordshire and Shropshire can try 01782 602 300 and for Herefordshire and Worcestershire, 01905 743600.
London  Covers London, including the boroughs of Barking, Havering, Redbridge and Waltham Forest. Tel: 020 7556 2100.
East and South East  Covers Bedfordshire, Berkshire, Buckinghamshire, Cambridgeshire, Essex (except boroughs covered by the London office), Hampshire, Hertfordshire, Isle of Wight, Norfolk, Suffolk, Oxfordshire, Kent, East and West Sussex and Surrey. All calls go to a central switchboard at Basingstoke. Tel: 01256 404000.
HSE Complaints and Advisory Team:  Tel: 0300 0031647.
Freedom of information requests  HSE says you should submit requests to your local HSE office. It doesn't publish the FoI requests email address online at www.hse.gov.uk/foi, but there is one: FOI.Unit@hse.gov.uk

John Bamford notes: "When all else fails, you know where the HSE lives." You can find the addresses and fax numbers of HSE offices online, at least for now.