Hazards issue 110, April-June 2010
Money men don't let deaths spoil a good pay day
Do the money markets care when a mine explodes and 29 workers die? Or a refinery blast kills 15? Not a bit, says Hazards editor Rory O'Neill, which is why the possibility of jail for top company directors could give them something other than the share price to think about.
The bottom line
Hazards issue 110, April-June 2010
The money men on Wall Street or in London's Square Mile really do not concern themselves with anything other than the bottom line, recent disasters suggest.
Just days after 29 workers died at the Massey Energy Upper Big Branch coalmine in West Virginia, Standard and Poor's Equity Research – a respected adviser to stockbrokers and other financial market players – upgraded the stock of the serial safety offender to "buy" as the mine disaster was "immaterial" to the company's profitability.
The 12 April 2010 Massey Energy upgrade note to clients said: "We believe that the financial impact of the Upper Big Branch mine tragedy to Massey Energy will be immaterial."  It added: "Our opinion is based on our analysis of industry mining accidents, Massey's indemnification to litigation via insurance, and our belief that the company has ample capacity to mitigate most of the 1.6 million tons of production that was expected to be sold from Upper Big Branch."
This, and other disasters, make a big dent in the claim the threat of "reputational damage" – a bad press – will keep companies on the safety straight and narrow. But it is a company's reputation as a source of wealth for shareholders, not as a safe place to work, that determines its market success.
BP continued to turn a profit every year after the infamous March 2005 Texas City refinery catastrophe that killed 15, even though it paid more than $2 billion for legal costs and fines and for remediation programmes at its US refineries. And BP continues to record soaring profits as the safety fines total grows inexorably.
On 27 April 2010, just one week after a Gulf of Mexico oil rig hired by the company exploded with the loss of 11 lives, the London-based multinational said its profits hit for the first three months of 2010 $5.6 billion (£3.6bn), up 135 per cent on the same quarter last year. Immediately after the blast, when initial US Coast Guard reports indicated no oil was leaking from the well - but when it was also clear there was no hope for the missing workers from the Deepwater Horizon rig - BP shares rose 3.3 to 639.7p.
It was only when it became clear there would be massive costs to the company cleaning up an oil slick just 41 miles off the Louisiana coast, there was a downward slide in the BP share price. BP, according to US pollution law, is the operator of the rig and responsible for the clean-up.
Oil lapping against a shore is bad news for a company, and the bad smell lingers. Workplace deaths, though, don't cause lasting reputational harm, because the bottom line really is the bottom line for investors. The 2010 first quarter bumper profits, exceeding market expectations, came after a quarter in which BP attracted the USA's largest ever safety fine. The 30 October 2009 penalty, at $87.4 million, was for failing to remedy safety problems identified after the Texas City refinery blast.
The money markets, inevitably, weren't interested. BP earned $2.6 million profit every hour round the clock for the first quarter of 2010. It could pay off the fine with profits pocketed before lunch on 2 January.
Deaths don't hurt BP
Experience told BP that even following multiple workplace deaths, it had no need to be concerned about its financial health. It has sailed blithely through human catastrophes in its workplaces before, with little or no impact on its share price. Just three months after the 2005 Texas City blast that devastated hundreds of families, its annual financial report noted it did not expect costs related to the blast to substantially affect its bottom line for following year.
'Damage limitation' for BP, it appears, is an art best practised by its army of public relations advisers. From Exxon Valdez, a disaster where BP was a major player, to Texas City and the Gulf of Mexico the remedial response to the human and environmental harm it caused was slower and less effective than the soft soap channelled expertly to the media. At the Gulf of Mexico, dispersants and booms had yet to be deployed as shell-shocked workers were given orders to urinate in a cup for mandatory drug tests, their first task on reaching shore.


BP – a recurring disaster

In 1989, US journalist Greg Palast was a fraud investigator hired to probe the cause of the Exxon Valdez disaster. "Despite Exxon's name on that boat, I found the party most to blame for the destruction was... British Petroleum", he recalls.  "That's important to know, because the way BP caused devastation in Alaska is exactly the way BP is now sliming the entire Mexican Gulf coast."

He says both in Alaska, when the Exxon Valdez grounded, and in the Gulf in April 2010, when the Deepwater Horizon platform blew, it was BP that was charged with carrying out the Oil spill response plans (OSRP) which the company itself drafted and filed with the government.

"What's so insane, when I look over that sickening slick moving toward the Mississippi delta, is that containing spilled oil is really quite simple and easy. And from my investigation, BP has figured out a very low-cost way to prepare for this task - BP lies. BP prevaricates, BP fabricates and BP obfuscates.

"That's because responding to a spill may be easy and simple, but not at all cheap. And BP is cheap. Deadly cheap."

According to Palast, writing in the Morning Star on 9 May 2010, BP CEO Tony Hayward has revealed where the problem may lie. "Last year Hayward boasted that, despite increased oil production in exotic deep waters, he had cut BP's costs by an extra $1 billion a year. Now we know how he did it."

Photo
BP staff and contractors at the Deepwater Horizon disaster's Joint Incident Command observe "a moment of silence."


But it was not rig workers that made the fateful decisions that caused any of the recent disasters. BP, London based and the USA's biggest oil and gas producer, has a worse health, environment and safety record than many other major oil companies, according to Yulia Reuter, the head of the energy research team at RiskMetrics, a consulting group that assigns scores to companies based on their performance in various categories, including safety.
And the US government's official workplace safety watchdog, the Occupational Safety and Health Administration (OSHA), is similarly unimpressed with the company. "BP has systemic safety and health problems," said Jordan Barab, the deputy assistant secretary of labor for OSHA. "They need to take their intentions and apply them much more effectively on the ground, where the hazards actually lie."
He has plenty of evidence to back up this charge, even if he lacks the enforcement clout to force the necessary chance of behaviour. BP continues to attract what, in safety terms, are huge fines for repeat and serious violations – but the fines could be paid out of the company's petty cash without a blink from investors.
On 8 March 2010, as the oil giant's bean counters will have been totting up the first quarter profits, BP bagged another US safety fine – this time $3 million (£2m), for  42 alleged wilful violations and 20 alleged serious violations for exposing workers to safety hazards at its Toledo, Ohio, refinery. That's an hour's profits; in cost terms, the safety violations were almost certainly a cost effective alternative to dealing with the problem.
Texas City should have been the final lesson learned and acted on by BP – an investigation of the explosion by the US Chemical Safety and Hazard Investigation Board (CSB) blamed BP for the explosion and found "organisational and safety deficiencies at all levels of the BP Corporation" and said management failures could be traced from Texas to London. It was the wake-up call screamed at BP, but which the company still contrived to ignore.

Boardroom complacency – either that or straightforward indifference – meant it instead embarked on a cross-fingers-and-hope strategy, finessed with some very polished PR. But the safety veneer is now tarnished, and the sequence of bad choices and bad outcomes have exposed again the underlying malaise in BP's corporate oversight.
Commenting on 23 March 2010, the fifth anniversary of the Texas City disaster, both US regulators and unions questioned the company's commitment to improved standards. The union USW posed the question: "But have the penalties, fines and bad press really gotten BP's attention?" It concluded: "Their safety record since the disaster would argue it has not."
US Secretary of Labor Hilda L Solis said: "As we've seen from my department's Occupational Safety and Health Administration's (OSHA) recent enforcement actions, BP still has a long way to go to ensure the safety of its employees and those of the contractors who work in its refineries."
John Bresland, chair of the Chemical Safety Board (CSB), the body that did the formal investigation into the Texas City blast, said "we found organisational and safety deficiencies at all levels of the BP Corporation" – and that included the multinational's London board. He said "internal audits and safety studies brought problems to the attention of BP's board in London, but they were not sufficiently acted upon." Bresland added: "If the airline industry was having the same number of accidents as the refinery industry, I don't think too many people would be flying."
This is not just a failing of the US regulatory system. In fact, the UK's trimmed down enforcer has looked to the failed US model, which relies on some degree of self-regulation to compensate for a threadbare enforcement regime, for clues on how to perform a growing job with dwindling resources.Without the necessary level of inspections, investigations, prosecutions and penalties to make companies put safety first, the outcome can be equally dire.
In the period 1 March to 13 April 2010, steel giant Corus was fined four times for workplace safety offences, including one death. Then on 23 April 2010, Corus killed again. Thomas Standerline, 26, an electrician at the Corus plant in Scunthorpe is reported to have died after being struck by a crane.
In April 2010, a prosecution saw the firm fined £240,000 after a young lorry driver was crushed to death at its site in Staffordshire. Ross Beddow, 22, was crushed to death when three tonnes of steel plates fell on him at the firm's base in Wombourne. In addition to the £240,000 fine, Corus (UK) Ltd was ordered to pay £112,500 costs at Stafford Crown Court after it pleaded guilty to breaking safety rules. HSE inspector Dr Wai-Kin Liu said: "If Corus had a safe system of working then Mr Beddow would not have been killed simply doing his job."
On 31 March, the steel giant was fined £10,000 following an explosion in a 75-metre-tall steel chimney in Scunthorpe. On 12 March, Corus UK Ltd was fined £100,000 and ordered to pay £9,908.50 costs after a worker escaped with minor injuries after the crane he was operating at Aldwarke Steel Works in Rotherham overturned. And on 1 March it was fined £5,000 after a worker was seriously injured while clearing a jam in the production line at its plant in Skinningrove, East Cleveland.
The sequence of criminal safety breaches prompted the Hazards Campaign to ask why no senior Corus director been called to account in the courts for causing all this death, disability and injury. Campaign researchers found since 2001 there have been 16 separate Corus entries in the Health and Safety Executive's (HSE) prosecutions database relating to death or injury and a further 24 separate entries in the HSE's notices database, including many stop work notices. These include court action relating to the 2001 Port Talbot furnace explosion where Stephen Galsworthy, 25, Andrew Hutin, 20, and Len Radford, 53 were killed.
The Hazards Campaign says the steady stream of fines for criminal safety breaches show the penalties do not have the required deterrent effect, and argues individual directors must face the prospect of a prison term if repeat offenders are going to be convinced of the need to change their behaviour.
The campaign notes: "Fines may look large but are a drop in the ocean of the company's turnover and profits and act as no real deterrent as Corus has shown."
Royal Mail death fine 'no deterrent'

Royal Mail worker Colin Smith died aged 57. He was crushed to death at work; the company was found criminally negligent and fined £400,000.

Dave Joyce, the national health and safety officer of postal union CWU, was unimpressed. He said: "I give a degree of credit to the employer for changing its plea to guilty in this case, but the truth is Royal Mail got off light!  When you consider the Postal Regulator fined Royal Mail £11.5 million a few years ago for not delivering enough letters on time, this fine is paltry on an organisation with a £9,560 million turnover and fines like this are no deterrent or incentive to improve safety management and place little value on a lost life." He added: "The victim's grieving family were devastated by the accident and their loss is immeasurable. News of this low fine will no doubt add further to their grief."

The company should listen more closely to CWU safety reps, Dave Joyce said, adding he was "seeking assurances" from Royal Mail this would occur.

Commenting after the prosecution, Health and Safety Executive (HSE) inspector Karl Howes said: "This was a tragic accident which could have been easily prevented if Royal Mail had exercised proper control of vehicle activities at the Heathrow Distribution Centre. The company failed to adequately assess the risk to shunters working in the yard or to identify and rectify the unsafe system and this contributed to Mr Smith's death."

Royal Mail vehicle services is featured on HSE's website as an example of effective safety management practices.

* Royal Mail Group plc Vehicle Services, HSE case study.

It is clear the combined fines and costs total of around £400,000 will not make a significant dent in the multinational's coffers.
The firm's website notes: "Corus is Europe's second largest steel producer with annual revenues of around £12 billion and a crude steel production of over 20 million tonnes." In February 2010, it increased the price of many of its steel products by at least £50 per tonne, raising its anticipated income by hundreds of millions at a stroke.
And it is not just the usual notoriously deadly suspects of chemicals, construction, steel and oil.
Royal Mail got away this year with a "paltry fine" following the horrific death of a member of staff, postal union CWU has said (above right). The union was speaking out after the company's prosecution by the Health and Safety Executive (HSE) on charges relating to the death of employee Colin Smith, 57. He was fatally injured in September 2006 when he was crushed behind a lorry at Royal Mail's Heathrow Worldwide Distribution Centre (HWDC).
At Reading Crown Court in March 2010, Royal Mail Group Ltd was fined £90,000 and ordered to pay costs of £42,549.56 after admitting safety offences. The company had a turnover in 2009 of over £9.5 billion. Its operating profit for the year was £274 million.
Fines are not fine
It's a story repeated time and again – companies kill, pay what by safety standards are large fines, but in reality are pinpricks compared to turnover.

Leo Gerard, president of the US United Steelworkers union (USW), commenting on a series of recent workplace disasters in the US including the Massey mine tragedy, said "industrial CEOs have carelessly gambled with worker's lives for personal gain.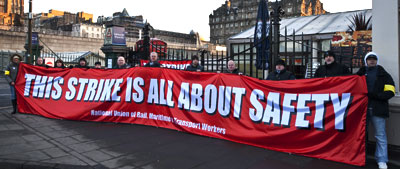 RMT shows the real way to safety

When plans to slash staffing puts workers and the public in danger, there's a tried and tested course of action to make the employer think again – industrial action. And rail union RMT has given employers in the industry plenty to think about. It's taking on both Network Rail and Scotrail over ill-judged moves that could put safety on the line.

The union is demanded a reversal of cuts in what it says are safety critical jobs Network Rail jobs. The union charges that the company's "slash-and-burn attack on jobs and conditions" has nothing to do with overstaffing, new technology or outdated working practices, as indicated by the company, but is a dangerous money-saving gamble. RMT general secretary Bob Crow said: "Network Rail is trying to con the public into believing that a cost-led jobs cull is safe when we already know that inspections and maintenance frequencies are over- stretched and that most safety recommendations made after the Grayrigg crash have not been implemented in full or in part."

He added: "The fact is that Network Rail is under pressure to slash 21 per cent from its budget, wants to axe 1,500 frontline posts, lump maintenance functions onto over-worked signallers, and impose changes that will undermine rail safety and make another disaster inevitable." The union leader said: "The only part of NR that needs a jobs cull is the boardroom, whose latest wheeze will result in an increase in the ratio of over-paid executives on telephone-number pay and bonuses to front-line skilled staff, at the direct expense of rail safety."

In a separate dispute, an April 2010 72-hour strike by RMT guards and drivers at Scotrail in defence of safe staffing was "rock solid", according to the union. The industrial action was in protest at the imposition of driver-only operation on the Airdrie-Bathgate line.

A nationwide 'Keep the guard on the train – keep the train safe' campaign aims to highlight "the crucial role that guards play in maintaining rail safety and also aimed at ensuring that the public are fully aware of the importance of retaining the guards."

"The 'free market' doesn't control that immoral behaviour. Government must do it. And when it does, it must have the power to impose fines or workplace shut downs that will damage the bottom lines of CEOs who care about nothing else.
"And it must have the power to criminally charge and potentially imprison CEOs, treating them the same as drunk drivers who risk other peoples' lives."
UK activists, including the grassroots Hazards Campaign, take a similar line. "The Hazards Campaign says company directors and employers will not give due regard to preventing workplace death, disability, injury and ill-health until they are held personally liable and we want to know which political party will act to put a stop to this corporate crime wave."
But while the official safety agencies talk tough after a disaster, the companies can frequently enjoy their quiet support or at least benefit from their regulatory impotence between outbreaks of bloodshed.
BP had successfully lobbied against more stringent US offshore safety regulations and oversight prior to the Deepwater Horizon blast. In the UK, as a series of investigations left the safety reputation of BP's London-based global board in tatters, HSE continued to feature the company as an exemplar of "director leadership".  The case history was only removed in November 2009, after the official PR for BP was exposed by Hazards.
Royal Mail's vehicle services section, found in March 2010 to be criminally negligent in a case relating to the death at work of employee Colin Smith, is featured currently on HSE's website as an example of effective safety management practices.