Hazards issue 117, January-March 2012
Why justice may be hard won after brutal deaths at work
A crushed head, burned alive, consumed in a workplace explosion. However horrific and preventable, the fight for justice after a death at work is likely to long and arduous – and frequently a series of cruel disappointments, bereaved families more often than not discover.
A kind of justice
Hazards issue 117, January-March 2012
Steven Allen died after the jaws of a grab machine, being wrongly used to move a pallet of cement bags, slapped shut on his head. The 23-year-old from Keighley in West Yorkshire was part of a team working for contractor JN Bentley on the construction of a Bradford Council recycling centre. Moving the 30 or so cement bags that afternoon of Friday 9 March 2007 was his last job before the weekend break.
The team was using a block grab attached to an excavator to move the load. As they did, the cement bags fell two metres to the ground, but the pallet remained in the jaws of the grab. The pallet pivoted and Steven took hold of it to pull it free. As the pallet came away, the jaws dropped and clamped on his head, causing severe injuries. He died the following day.


COURT CONSOLATION  Steven Allen's mum, Judith, and his girlfriend Helen Cook outside the court that found JN Bentley guilty of the criminal offences that led to his death. The firm was fined but does not have to pay compensation as Steven had no dependants.
In January 2012, Bradford Crown Court was told the grab was being used against manufacturer's instructions and was not suitable for the job. The company had also failed to implement a safe system for lifting and transporting the bags of cement.
Health and Safety Executive (HSE) principal inspector Dave Redman, commenting after the trial, said: "The firm made a fundamental error by using a block grab to lift and move pallets and this resulted in the tragic death of a young man. This use was very clearly advised against by the manufacturers and the risks should have been understood by the company." He added: "No assessment was made regarding the use of the grab and no instructions were given to the men who were operating it."
Various risk assessments had been carried out at the site – even for the removal of Japanese knotweed – but not for lifting or moving supplies on palettes and no "method statement" had been prepared to show how the work should be carried out, the court heard.
JN Bentley had pleaded guilty to criminal safety breaches at an earlier hearing. The firm was fined £106,250 on 27 January 2012 and ordered to pay costs of £90,000. In his judgment, Recorder Julian Smith said the death has followed "significant" criminal safety failings, adding: "If appropriate equipment had been used, Mr Allen would not have been killed in the way he was."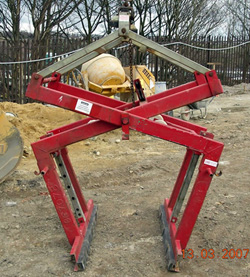 DEADLY CHOICES  JN Bentley had risk assessments for handling knotweed on site, but not for the use of the grab that clamped shut on Steven Allen's head.
Sentencing JN Bentley, he said: "At the foundation of this case is a tragedy of enormous proportions. I have read the victim impact statement, the terms of which were and are, profoundly moving. What it demonstrated about his family is what it demonstrates about him. It is apparent that great potential existed in that man."
Steven's mother Judith Allen sat through the whole hearing, listening to a harrowing account of her son's last moments and how that "great potential" was snuffed out. But the 46-year-old was nearly denied even the small semblance of justice delivered in that Bradford courtroom.
The Health and Safety Executive (HSE) had initially expressed little interest in pursuing a criminal prosecution. It was only after a series of meetings with HSE, where Judith and her family drew on expert advice and support from the campaign group Families Against Corporate Killers (FACK), that the safety watchdog began to concede criminal safety failings and not rank bad luck were at the root of the tragedy.
JN Bentley had then used a series of arcane legal ruses to delay court action and had tried to shift blame to Steven himself. A September 2011 hearing was abandoned the morning it was due to start, after the company's barrister, Mark Turner QC, expressed "surprise" at long-disclosed prosecution evidence and said as a result he "would not be able to properly put my client's case". The judge at that hearing apologised to the Allen family, but added: "Reluctantly, the matter will have to be adjourned in fairness to the defendant company."
A subsequent 'Newton hearing' – a form of arbitration before a judge and jury demanded by the company because it accepted it had committed criminal safety offences, but denied they had contributed to Steven's death – led to months of delays in the case reaching court. The court backed the family's version of events at the eventual three day hearing, which concluded on 27 January 2012.
Even though guilt has been established in court, there has been no apology and there will be no compensation payout. "I must make it clear that the £106,250 is a fine for JN Bentley's criminal act, payable to the government, part of the criminal justice system not civil compensation, and the costs go to the HSE," said Judith. "Steven's family has received no compensation as Steven had no dependants."
She is angry the firm tried to pin the blame on her son. "I have been vindicated by this judgment that the risk were foreseeable, should have been prevented and that Steven was not to blame for his own death which his employer persistently claimed. This claim caused us a lot of pain and anguish.
"This may be the end as far as prosecutions go, but our lives are blighted forever. The only consolation will be if it stops something like this happening again, and makes workers and the public far more aware than I was before Steven died, of the risks employers take with workers' lives in trying to save money."
FACK spokesperson Hilda Palmer, who has worked with the Allen family throughout, said the verdict vindicated the family's position. "The judgment leaves no doubt that Steven's employer's law-breaking caused his death and utterly rejected the defence attempts to put the blame on to him. This was very important for Steven's mother and family to hear in court, and vindicates their almost five-year fight for justice.
"One cannot help thinking it would have been far easier on the family had JN Bentley made a full admission of guilt earlier and made no attempt to blame Steven."
Mother's anger as death fine is halved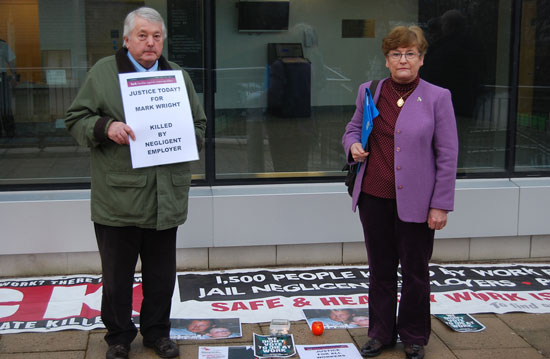 The mother of a man killed in a workplace fireball has expressed dismay after a court cut his employer's fine in half.
Mark Wright, who worked at Deeside Metals, was told by his general manager Robert Roberts on 12 April 2005 to crush and bale 4,000 sealed aerosol containers. A cloud of volatile vapour was released and ignited by an electric spark, blowing the roof off the building and burning 90 per cent of Mark's body. The 37-year-old, who was married with two young children, died the following day.
Deeside Metals was fined £100,000 plus £10,000 costs in December 2010, with the first payment due on 13 December 2011. The firm successfully challenged its penalty at the Court of Appeal on 2 December 2011, where its fine was halved to £50,000 after the company pleaded poverty.


CHILDREN'S TRAUMA  After Mark's death, daughter Megan would cuddle her father's t-shirt at night. Son Leigh, who was 15 when his father died, sat at his bedside as he succumbed to his injuries.
Mark's mother Dorothy Wright, who was forced to miss the hearing due to ill-health, said: "My son was denied his most precious possession, his life. His country then betrayed him to protect his killer. Its financial sentence is cut by half. Our sentence is for life." She questioned what kind of court "allows a killer to plead poverty and have its sentence reduced substantially?"
A spokesperson for Families Against Corporate Killers (FACK) said: "A fine that can be appealed and cut by half does not seem a proportionate or just sentence for such an act, nor is it likely to act as a deterrent."
Dad still angry 10 years after son's death
The father of a steelworker killed in an explosion 10 years ago says he is still angry nobody has ever been brought to justice. Michael Hutin's 20-year-old son Andrew was one of three workers who died at the Corus plant in Port Talbot on 8 November 2001. Corus paid £3m in fines and costs for breaching health and safety laws but Mr Hutin, a member of the campaign group Families Against Corporate Killers (FACK), said no individuals were ever held accountable.
The blast victims were Andrew Hutin, 20, Stephen Galsworthy, 25 and Len Radford, 53. Twelve men were also injured at the Corus plant, which was taken over by Indian firm Tata Steel in 2007.
Speaking on 8 November 2011, ahead of a memorial service to mark the tenth anniversary of the deaths, Michael Hutin, who now works in the safety department at the steelworks, said he was still angry and frustrated that no individual was ever prosecuted. "We haven't had justice," he said. "Ultimately I always expected that the persons who made the decisions - it wasn't Tata who made the decisions or Corus, as it was - it was the individuals working for the company. I expected those individuals to pay for the wrongdoings."
His daughter, Sara, who was 13 when her brother died, said her feelings of loss would never go away. "I have to live with the fact that my children will never meet my brother and my sister's children will never meet my brother," she said. "Things that will happen in the future, things that have already happened, I can't share with him."
In December 2006, Corus was fined £1.3m for criminal safety offences related to the Port Talbot deaths, with Justice Lloyd-Jones criticising the company's "casual" attitude to safety.  The company, though, did not end up out of pocket. According to Michael Hutin, speaking to Hazards in May 2009: "Corus received £75 million from its insurers, which paid in full for a new blast furnace, opened with a huge amount of national publicity by Prince Charles. Could someone therefore inform me, because I am obviously missing something here, who has been penalised?"