| | |
| --- | --- |
| | Families Against Corporate Killers (FACK) |
Families Against Corporate Killers (FACK) has brought together the relatives of people killed at or by work. Hazards spoke to FACK members about their high profile campaign for justice.
Families fight for relative justice
Families Against Corporate Killers (FACK)

Families Against Corporate Killers (FACK) coordinator Hilda Palmer says the organisation was set up in July 2006 by families of people killed at work, frustrated "because they weren't getting any justice, employers weren't being held to account and the paltry penalties meted out to those found guilty, resulted in very little deterrence to other negligent employers." She says: "No-one should be killed simply for going to work but when that happens, apart from the very rare freak accident, someone must be responsible, must be held to account and penalised so that it doesn't happen again."
FACK founder member Dorothy Wright's son Mark was killed in a 2005 explosion at a death trap waste recycling factory. The case has still not come to court; there hasn't even been an inquest. By linking up with other bereaved families she believes the campaign can pressure the government "to take action to stop the needless killing of so many workers and by doing so bring some kind of lasting meaning to my son's unnecessary and horrendous death at the hands of his negligent employer.
"We can't bring back anyone who has been killed because their boss decided their safety wasn't important enough, but can try to make them pay enough to stop needlessly killing more workers and members of the public. By joining and supporting FACK as trade union members and others, a clear message could be sent to government that the British people consider the protection of our own and our families' lives at work is a human right and a top priority and we will no longer allow employers to get away with murder."
Hilda Palmer says there are now more than 50 families active in the campaign, which works closely with other groups, including the Construction Safety Campaign and the Hazards Campaign. She says that as well as providing support for families, "FACK realised that the problem was not individual mistakes but injustice on a grand scale that requires major changes in health and safety law, in enforcement and in attitudes to workplace death including the fact that it is much more common than many realise."
Last year's corporate manslaughter law, which does not target company directors, is "a betrayal by government which is unlikely to worry big business and employers," she adds. The problem is compounded by the low priority given to health and safety enforcement. "All families are horrified to learn after a death how little employers have to fear being caught when they break health and safety law."

LINDA'S SON Linda Whelan's son Craig died aged 23 in a fireball, along with fellow steeplejack Paul Wakefield. "The blame for so many deaths in the workplace lay directly at the doors of those employers who have no respect for the safety or lives of others, they put money and time before safety."


GRIEVING BROTHER Chris Whelan lost his big brother, Craig, in an horrific chimney fire. Their mum, Linda, is a FACK founder member. "The government must take some of the blame as they don't plough funds into health and safety, therefore inspections in the workplace are not carried out - there are not enough inspections!", she says.



FACK'S MESSAGE FACK wants workplace deaths to be treated as real crimes and for company directors to be held legally accountable and face prison sentences if found guilty.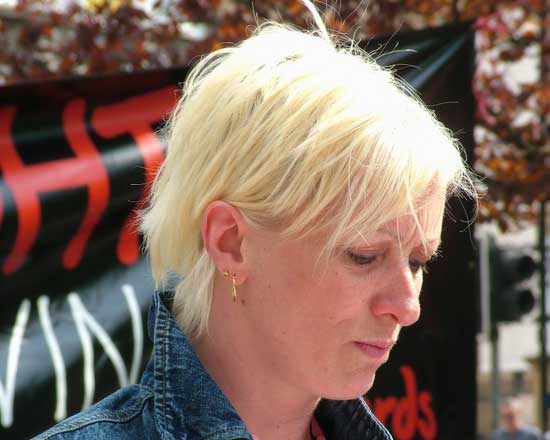 LINZI'S LOSS Linzi Herbertson's husband Andy was killed aged 29 when he fell from an unsafe scaffold. "I had to turn off his life support machine on our son's 8th birthday. The company were fined less than £10,000 and I was on my own with two young children." She is proud of her involvement with FACK, "which has achieved national recognition, even from government!"



CONFRONTING PROBLEMS In less than three years FACK has won a national profile, helped hundreds of families and confronted MPs and ministers with the victims of health and safety crimes. FACK won the Hazards Campaign's 'Alan' award in 2008, in recognition of its campaigning prowess.

PENALTIES PROBLEM FACK demonstrations and lobbying have highlighted the inadequate penalties for workplace safety crimes, including the £2 fine received by North West Aerosols after Christopher Knoop died in a workplace explosion. No directors were charged or attended the court case, instead putting the company into liquidation.

JUST CAUSE Judith Allen's son Steven (above) died on a Bradford building site. She says FACK is "a voice for all those who cannot speak for themselves, in places where it is listened to, places that can make a difference, where laws are changed and new ones made." Sharon Norman's father, Gordon Field, was crushed to death aged 58. "My dad's negligent employer is to blame for his death," she says. "I would like all corporate killers to serve a jail sentence."

HUMAN FACE "We have managed to get more publicity for the real causes of workplace deaths by telling our own stories and also by staging vigils and protests outside trials and inquests into workplace deaths, to support the families and ensure the right questions are raised," says FACK's Hilda Palmer.