Hazards, number 159, 2022
WORTH LESS| Conservatives are burying compensation and prevention
Under the Conservatives work-related ill-health has increased sharply, but there have been far fewer compensation payouts. Hazards editor Rory O'Neill reveals government policy is behind a collapse in access to justice which has seen the number of workplace injury and disease claims slashed in half.
The UK's system to compensate people who suffer occupational injuries or diseases as a result of their employer's negligence has been critically and deliberately damaged by the Conservatives, research by Hazards has revealed.
Hazards obtained official government figures in 2012, two years after the Conservatives came to power, as the then prime minister David Cameron pledged "action to tackle the compensation culture, reduce legal costs and cut health and safety red tape" (Hazards 122).
Now figures for 2022 obtained by Hazards have exposed the devastating impact of this decade of Conservative employment policy and law changes on the compensation system. Compensation claims registered with the Department of Work and Pensions' (DWP) Compensation Recovery Unit (CRU) are now at about half the number a decade ago.
The drop comes despite Health and Safety Executive (HSE) figures indicating that in 2009/10, the year before the Tories came to power, workers were 30 per cent less likely to report being made ill by their work compared to 2020/21.
And the worrying consequences of a decade of Tory policy prescriptions come as new prime minister Liz Truss promises a renewed and unprecedented attack on trade union, safety and employment rights, including safety laws and the right to strike in defence of decent work (see: Death of decency).


A serious malaise
The comparison of compensation figures, obtained by Hazards through Freedom of Information Act requests in 2012 and 2022, reveal there were 87,655 claims registered with CRU in 2011/12, but this had fallen to 44,435 in 2021/22 – a 50 per cent drop.


FALLING DOWN  Job hazards haven't gone away, but a series of Conservative changes to the compensation rules, coupled with a sharp decline in enforcement, has mean employer accountability is in freefall.

Accident claims fell from 68,348 to 35,254, down by over 48 per cent. The number of claims for almost all the classic occupational diseases – including pneumoconiosis, asthma, strain injuries, deafness, dermatitis and vibration white finger – have crashed.
One stand-out is the very low and falling numbers of compensation claims for occupational cancer. HSE estimates there are 13,000 occupational cancer cases a year. In 2011/12, just 245 cases of occupational cancers other than mesothelioma were compensated. But by 2021/22 this had fallen to 139, a drop of over 43 per cent.
Claims for the asbestos cancer mesothelioma also fell, despite the total number of cases and deaths now being significantly higher than a decade ago. There were 2,471 claims in 2011/12, compared to 2,204 in 2021/22, an 11 per cent fall.
Stress, depression and anxiety claims have dropped by 45 per cent in the decade, again running counter to a dramatic rise in cases, which reached an all-time high over each of the last two years. The current 800,000 plus annual estimate by HSE is about twice the level a decade ago.
A similar pattern is observed for work-related lung disease – despite HSE's analysis showing the number of cases has remained constant or has risen slightly over the last decade. Claims for the most serious lung conditions have dropped markedly. Chronic obstructive pulmonary disease (COPD) and occupational asthma are both down by a third (33 per cent), bronchitis/emphysema down by 88 per cent and pneumoconiosis claims by 29 per cent.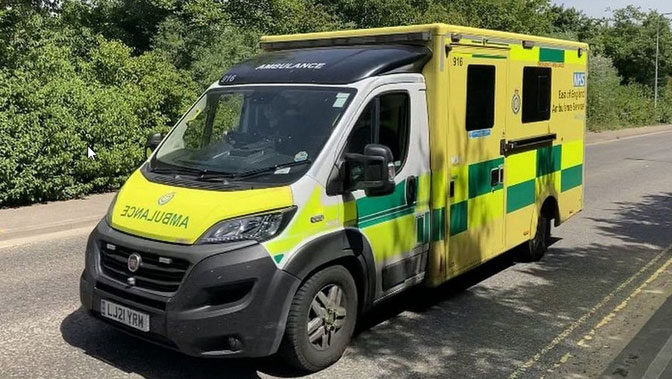 UNFIT DESIGN  Almost 100 staff at East of England Ambulance Service (EEAST) are unable to drive its new fleet of Fiat Ducato ambulances due to their height or body shapes, an investigation has found. Complaints ranged from back pain, not being able to see out of the windscreen properly to knees and shins scraping the dashboard. More.
Claims for repetitive strain injuries and upper limit disorders have both crashed, down by 49 per cent and almost 70 per cent respectively, despite rates of musculoskeletal disorders remaining at broadly the same level over the decade.
Out of 29 accident or disease categories where comparisons are possible, 21 have gone down (often dramatically), five have gone up, and 3 haven't changed significantly.
The five claims categories that increased are pleural plaques, 'non-coded disease', degenerative disc condition, physical abuse and sexual abuse. The latter two are new arrivals. Together they make a small proportion of the total claims.
Source: Hazards FoI requests to CRU, 2012 and 2022.


No accident
Dan Poet, principal lawyer with trade union personal injury law firm Thompsons Solicitors, warns that fewer claims doesn't equate to safer workplaces. "Reduced claims numbers may look like a healthy trend but we know this is not matched by a reduction in accidents and illnesses," he says. "The only conclusion is that many victims of workplace injury and illness are going uncompensated."
Health and Safety Executive (HSE) figures show work-related ill-health hit an all-time high in 2020/21, the most recent year for which statistics are available. And the figures did not include the 387 work-related Covid-19 deaths and 31,727 non-fatal cases reported to HSE that year.
There is a simple explanation for the discrepancy, Poet says. "The legal changes all brought in by the Conservatives are effectively a form of back door deregulation."
The Conservative government has in the last decade removed civil liability for breach of regulations via the Enterprise and Regulatory Reform Act 2013 (ERRA section 69), reduced legal aid and income available to lawyers pursuing personal injury and disease claims through the Legal Aid, Sentencing and Punishment of Offenders Act 2012 (LASPO) and has imposed the "one-sided fundamentally dishonest provisions in of the Criminal Justice and Court Act 2015 (CJCA section 57)."


Prevention suffers
The CRU figures obtained by Hazards flag up another worrying consequence, Poet warns. "Lower numbers of claims for complex conditions such as cancer point to lawyers playing safe and being unwilling to represent claimants in such matters."
He adds: "The changes, perhaps most importantly the loss of recoverable After The Event (ATE) insurance and success fees, have made too many lawyers more risk-averse and less willing to take on risky and/or novel cases."


COMPLEX CLAIM A Unite member from Merseyside has received 'significant' compensation after a fall at work left him with back and head injuries. River boat pilot Iain Baird was working in a Liverpool port, on a Liberian-flagged vessel, managed by an Italian company with a Swiss HQ. More.
All this has an impact on prevention, he says. "Fewer claims reduce the incentive for insurers and employers to maintain standards and encourage their joint drive for more fixed costs and any other changes that increase claimant lawyer financial vulnerability. It's a vicious circle."
Recent Tory rhetoric suggests that "we are nowhere near rock bottom," particularly as Brexit "has removed the safety net of common EU standards from UK work- places," Poet adds. "Given her contempt for the British worker and her libertarian zeal, nothing is likely to be off the agenda in a Truss administration," with even the Health and Safety at Work Act potentially under threat.
Professor Phil James, of Middlesex University's Business School says the compensation changes have to be viewed a part of this wider attack on workplace health and safety. "These figures provide yet another indication, if one was needed, of how the UK system of work health and safety regulation has been systematically dismantled," he told Hazards.
"First, the regulator of the statutory part, the Health and Safety Executive (HSE), has been rendered largely impotent as a source of worker protection. Now it becomes clear that the chances of workers being compensated for the harm they unnecessarily suffer has been dramatically diminished. A true double whammy of injustice."
And we may be yet to see the full extent of the damage, warns Daniel Poet. "An employer with a strong health and safety culture, perhaps at least partly in the knowledge that it was operating in a highly regulated environment where breaches of duty would result in significant damages payments and higher insurance premia, will not change culture overnight.
"However over time, the pressure to maintain high standards will fall away and as they are undercut by competitors operating on a less rigorous regime or if they see easy opportunities to increase profit they will lower standards and join the race to the bottom."
Putting it right will take a combination of interventions, Poet says, including "stricter regulation fit for the 2020s and beyond, better funded enforcement agencies, increased freedom for unions to organise and act and greater access to justice for working people."
A number of factors have constrained the impact of unions. According to Poet: "Union membership has remained steady as a headline figure but it has fallen in the private sector and especially, we suspect, in the more dangerous occupations. The increase in bogus self-employment and the growth of zero hours contracts with the job insecurity and fear that it brings will also no doubt have played a part in reducing claims."
It is a real problem, Poet says, because "union backing allows lawyers like us to take on difficult and groundbreaking cases which individual workers would simply not be able to do on their own – they wouldn't find lawyers who would take the case on or would face any lawyer who did taking a substantial bite out of compensation that was meant for them."
He adds: "Unions have always worked on the basis that an injury to one is an injury to all and that means when those standards are not met, they have been there so that the injured worker gets the best advice and the maximum compensation possible.

"And they do that not just because it is right for that individual but also because pursuing those claims puts employers on notice and brings collective workforce benefits."
---
Union support wins 'complex' injury claim
A Unite member from Merseyside has received 'significant' compensation after a fall at work left him with back and head injuries.
Iain Baird, a 55-year-old self-employed river boat pilot from the Wirral, was attempting to climb a rope ladder onto a vessel in the Liverpool Bay in August 2018 when it snapped, causing him to fall with part of the ladder – which weighs more than 200kg – landing on top of him.
He suffered severe back pain and a head injury that left him unable to work for a month. The pain persisted and four years on he still suffers from back issues.
He said: "The accident has had a debilitating effect on my life, physically and mentally. I now suffer from anxiety at times, which is predominantly triggered when I'm having to board or disembark ships with ladders similar to the one that failed, resulting in my injury. I don't want to think about what might have happened if it had broken slightly later. If I was a few steps higher I would have fallen back into the water, with the tangled ladder landing on top of me. It could have been fatal."
Unite brought in Thompsons Solicitors to act in a compensation case. With multiple defendants from various jurisdictions, the complex claim fell to Thompsons' foreign jurisdiction specialists, who helped him secure a settlement – after a tough fight with the various defendants.
Senior lawyer Neil Richards said: "The container vessel was a Liberian registered ship managed by an Italian-owned company, whose offices were in Switzerland. And then we had to factor in the port authority. At Thompsons, we have extensive experience of personal injury shipping claims, including piloting issues, seafaring accidents, and accidents on offshore installations, but whenever there are multiple groups who could be at fault, they typically all pass the buck hoping someone else takes responsibility – and people like Iain are left in legal limbo."

Iain remains uncertain how his injuries will impact the rest of his career, but the compensation guarantees some financial security.
Bad van design was not fit for workers 
Dozens of staff at an ambulance trust are unable to drive its £54m fleet of new vehicles due to their height or body shape.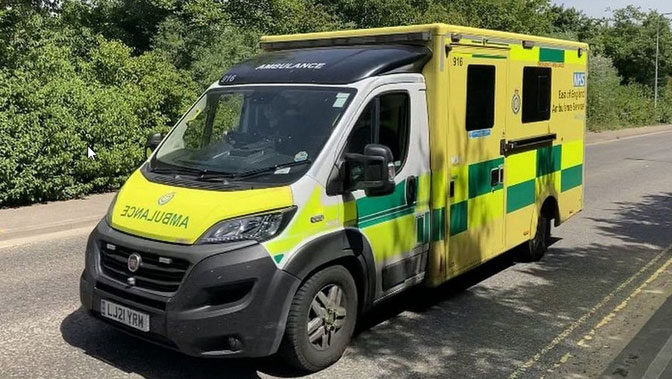 The converted Fiat Ducatos, which replaced ageing Mercedes vans at the East of England Ambulance Service (EEAST), are part of an NHS drive to standardise its fleet and are being adopted by trusts across the country.
But when the trust brought in a specialist to assess 160 staff members who, due to their height and body shape, had come forward having experienced a range of problems, 94 been identified as being unable to drive the vehicles.
Complaints ranged from back pain, not being able to see out of the windscreen properly to knees and shins scraping the dashboard. The UNISON branch at the Trust is now working with colleagues around the UK to challenge the national specification.