Biting the dust
HSE defends a silica standard six times more deadly The Health and Safety Executive maintains its silica dust standard is just fine. Hazards editor Rory O'Neill spoke to former stonemason David Wood, who at 64 can't work and struggles for breath. He, like hundreds of others who develop deadly silica-related diseases each year, are the undeniable proof HSE has got it dangerously wrong.
Hazards 148, October-December 2019
Suicide note
Global experts tell HSE to address work-related suicide risksThe Health and Safety Executive insists work-related suicide is too difficult to recognise, record or prevent. Really? Hazards editor Rory O'Neill reveals how an international panel of experts warned HSE it is failing "lamentably" on work suicide prevention and is leaving UK workers at risk of death by despair.
Hazards 148, October-December 2019
Blown away
Act now stop the work stress tsunamiStress and harassment. The top workplace health and safety problem. The least likely to result in enforcement action. This can't go on.
Hazards 148, October-December 2019
Discount chains
Oxfam uncovers abuse in UK supermarket supply chainsWorkers on the farms and plantations that supply tea or fruit to global supermarkets including Lidl, Aldi, Sainsbury's, Tesco and Morrisons are facing poverty and harsh working conditions, according to new research from Oxfam.
Hazards 148, October-December 2019
Heartbroken
For sanity's sake, this can't go on. Stress is the top workplace health problem and the least likely to result in enforcement action. A Hazards pin-up-at-work poster.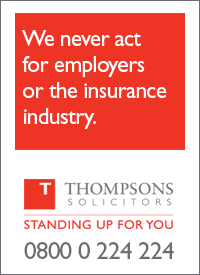 Seen 'Work cancer hazards'?
A continually-updated, annotated bibliography of occupational cancer research has been created by Hazards, the Alliance for Cancer Prevention and the International Trade Union Confederation (ITUC).
Find out more

We want more!
If you like what we have to say, then 'like' our We Love Red Tape facebook page spelling out our blueprint for a bigger, better Health and Safety Executive (HSE).
Deadly Business
A Hazards special investigation
The decimation of Britain's industrial base was supposed to have one obvious upside - an end to dirty and deadly jobs.
In the 'Deadly business' series, Hazards reveals how a hands off approach to safety regulation means workers continue to die in preventable 'accidents' at work.
Meanwhile, an absence of oversight means old industrial diseases are still affecting millions, and modern jobs are creating a bloodless epidemic of workplace diseases - from 'popcorn lung' to work related suicide. Find out more