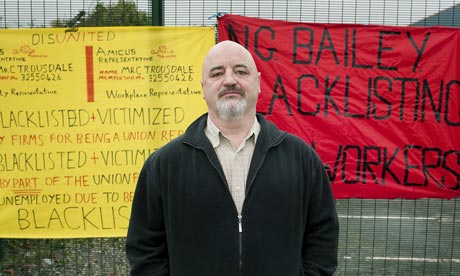 Nearly 10 months after it was confirmed by the Information Commissioner that blacklisting in the construction industry was rife, something common knowledge for decades among trade union reps in the sector, new laws outlawing the practice are in preparation and on 24 November 23 of its victims featured on the blacklist will start their tribunal cases.
But for electricians such as Colin Trousdale (above) it doesn't mean the scandal is over. The cover story on the 21 November issue of The Guardian's Work section reports Trousdale, 51, now has copies of his file after the ICO investigation.
The six-page document opens in 2006, shortly before he launched an unsuccessful employment tribunal claim for being blacklisted. The last entry is October 2008.
However Trousdale says that since last December he's only had eight weeks' work.
"I can only think that because I've raised health and safety concerns – and remember this is an industry in which 53 people died last year – I'm affecting profits and they don't want me doing that," he told the paper.
According to the government, the likes of Trousdale should get better protection from new laws due before Christmas. Draft laws have already been the subject of a consultation and do not have to be debated and once published, can be signed into law by the business secretary, Lord Mandelson.
Continue reading "Blacklisting fallout continues"